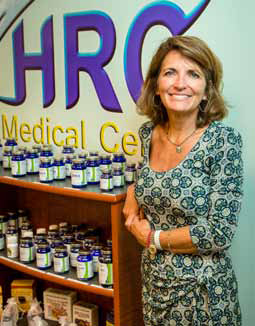 Whether you like it or not, aging depletes hormone levels in 100 percent of adults. The process of growing older can rob you of your sex drive, affect your vitality, cloud your memory, weaken your muscle tone, keep you awake at night, cause your joints to ache, add unwanted body weight and even drive you to depression.
It's not necessary, however, for you to deal with these issues and others that emerge when your body stops producing the hormones you need for the health and well-being of your mind and body.
Bionatural hormones, which are chemically equivalent to those your body has been producing your entire life, are specifically designed both to enhance and balance your hormone levels. The treatment certainly worked for Christopher Wells, who first visited the Hormone Replacement Center in Mount Pleasant about a year-and-ahalf ago.
"HRC has literally changed my life," said Wells. "I'd been researching hormone therapy for a while. I've always played a lot of sports and worked out, and I just wasn't recovering rapidly like I did years ago."
Dr. Lori Lyles, lead physician at HRC Medical of Charleston, pointed out that "participatory" therapy, combining a healthy lifestyle with natural hormones, works best. All potential new patients meet with a consultant for an informative one-on-one consultation about the exclusive Amor Vie TherapyTM and have blood tests to determine if they are viable candidates for the therapy. After Dr. Lyles reviews the lab results, she develops a plan based on each person's medical history, symptoms and hormone level.
"Each patient needs to be evaluated and counseled individually," she commented.
The hormones, estrogen, progesterone and testosterone, or a combination of two or three of them, are administered by inserting a pellet about the size of a grain of rice under the skin; the hormones are released slowly and steadily. Both men and women usually are given implants every three to four months. It is important to note that HRC's Amor Vie TherapyTM is individualized and that the progress of each patient is monitored and evaluated closely by the medical staff.
Some patients see concrete results within a few weeks of the first insert, while others might take longer to notice increased energy, enhanced memory, a stronger sex drive and uninterrupted sleep at night. In many cases, patients feel better about participating in the activities they enjoy but might have lost interest in.
"I actually started planting a flower garden for the first time in 30 years," one female patient said. "I felt like cooking, smiling more and getting out of the house."
"Most patients benefit in terms of cognitive function, bone density and muscle mass," Dr. Lyles said.
Other patients of the HRC Medical Center in Mount Pleasant pointed out:
"Hot flashes are gone, as well as night sweats";
"I have lost one inch in my waist and gained 10 pounds of muscle"; "If my doctor had not referred me to HRC, I probably would have come close to losing my mind";
"HRC has allowed me to regain a normal life";
"My energy level has increased tremendously. I feel like HRC has helped me establish balance in my life again";
"HRC has helped me so much with my migraines";
"I came here because I no longer could tolerate myself. I knew I could feel better and I do."
To evaluate your symptoms, visit AmorVieTest.com.
To schedule your free consultation, call (843) 606-1649.