Bread is a staple; no doubt about it. And the Great Harvest Bread Company, located in Belle Hall Shopping Center in Mount Pleasant, takes that staple seriously. Owned and operated by Jerry and Germaine Ward, who have passion for real food, the East Cooper store has been open for three years.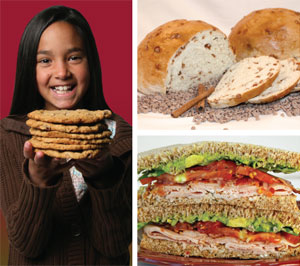 "We're all about whole grains here," Jerry Ward said. "Our bakers arrive at 4 a.m. every morning to make the bread fresh for that day." Ward hails from Utah, where, he said, "a Great Harvest was right by my house and I adored it. When my wife and I moved to Mount Pleasant 10 years ago, it seemed natural to open one in this area. After a career in custom-built kitchens, I wanted to work with people."
Besides buying an entire loaf of bread to take home, visitors to Great Harvest also can enjoy delicious sandwiches from the bakery, made with wholesome ingredients, as well as breakfast items and pastries including cookies, scones, muffins and "Savannah bars," which are fruit bars made with fresh fruit each morning.
"Our sandwiches are simple for the most part," said Ward. "We do classic sandwiches such as turkey, roast beef, chicken salad. The bread is what makes the sandwich exceptional. It's amazing what a difference bread makes to a sandwich."
I ordered the smoked turkey on honey wheat, plus a scone, and Ward was right: The wheat makes a difference. In fact, the whole wheat at Great Harvest is ground in-house; the bakery has a mill in the back.
"The only ingredients in that bread," – Ward nodded at my sandwich as I ate – "are honey, whole wheat flour, water, salt and yeast. Honey acts as a natural preservative, so our breads stay fresh for about seven to 10 days on your kitchen counter."
One of the most noteworthy breads, the Dakota, is a hearty combination of pumpkin, sunflower, sesame and millet. I held a loaf and was shocked at its weight; this stuff is the real deal.
"We've gotten into some hard crust breads lately," remarked Ward. "We still have the standbys, like honey whole wheat and Lowcountry white, but now we're introducing baguettes, ciabattas and sourdough."
Just in case you need something to keep the slice from sticking to the roof of your mouth, Mount Pleasant's Great Harvest offers jelly, jam, honey and other goodies for spreading, plus local coffee from Charleston Coffee Roasters.
"The blueberry and lavender infused jelly, by Sallie's, is made in South Carolina, and it's fantastic," said Ward.
For more tasty information on Great Harvest Bread Company, visit http://www.lowcountrybread.com/ or call (843) 881-7310.