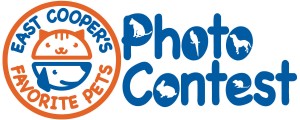 READ: Adorable East Cooper Pet Stories
SHARE: Tell us about yourself and your little (or big) friend and be sure to include a photo of the two of you together. Now if your friend is dangerous (like a venomous snake) you can simply stand near his habitat, you don't need to pick up the snake and endanger your life for this picture.
Happy snapping (of photos, not you)!
* Photos submitted become the property of Mount Pleasant Magazine and may be used for advertising and other purposes that Mount Pleasant Magazine deems non-harmful to the pet and owner.