Clay Rice, a popular artist who resides on the Isle of Palms, travels all over the United States to create silhouettes – and he can snip a profile in as little as one minute.
"I began cutting silhouettes and traveling to share them with others in 1982," he told me over lunch at Triangle in Mount Pleasant. "From there, I began working with department stores, boutiques and toy shops."
Rice initially learned his craft – and the passion for it – from his grandfather, the renowned Carew Rice, who was known as the silhouette "master" of the 20th century. The elder Rice's famous landscapes had no color whatsoever in them; their mystery is part of what made them unique.
"What he was able to do with black paper is amazing," said Rice. "His work invokes a kind of sensation as if you were in a dream. It reaches deep inside of you."
Rice uses minimal color in his silhouettes and in his popular children's book, "The Lonely Shadow." He is careful to use just enough hue to "add feeling," he said, while not "overpowering" the silhouette. His artistic influences in the use of color include Elizabeth O'Neill Verner and John Carroll Doyle.
As much as Rice loves creating silhouettes, his books – including this year's print edition of "Mama, Let's Make a Moon" – are a synthesis of his other artistic loves with silhouettes.
"Silhouettes aren't all I do; they're just a portion," he explained. "I'm also a writer and musician."
Rice's affinity for writing songs began in Nashville, Tenn., studying music at Belmont University, where he "learned how to tell a story in three minutes or less," he said with a smile.
"I have several influences in the art of storytelling," he said. "Guy Clark, Shel Silverstein, Townes Van Zandt and Patty Griffin, to name a few."
Rice feels that great storytelling is a matter of "peeling back layers and touching the spirit," which seems to come easily to him. His main themes in the second book include family love, creativity and the idea of "making something from nothing." Likewise, his first book, "The Lonely Shadow," deals with a child finding companionship in, literally, himself.
"The Lonely Shadow" has won numerous awards for children's literature, including the prestigious IPPY Gold Medal Award and the Independent Publisher's Award.
"The Independent Publisher's Award is the largest book competition in the world," said Rice. "About 2,000 books from about nine different countries are involved. When I won that award in 2008, it garnished the attention of my publisher, and we knew a second book wouldn't be far behind."
"Mama, Let's Make a Moon" is already a successful seller in the ebook world and will be available in print this summer throughout the United States and Canada.
"What is the book about?" I asked.
"Well, it's about a little family that lives in the mountains," explained Rice. "And they want to make a moon!"
I visited Rice's studio a few days after our lunch at Triangle, where he was kind enough to show me his work space and the original silhouettes for "Mama, Let's Make a Moon."
"For larger pieces, I sketch out a landscape first, and then I freehand the animals and the other things that give it life," he explained.
"How do you create such tiny details within the paper?" I asked, examining the miniscule snips that make up a rolling field of grass.
"With tiny movements," Rice replied with a grin. "I use a special pair of scissors that I came up with – they have three loops for my fingers instead of two. That way, I can spread my thumb and finger farther apart and have better control of the scissors. I just came up with this technique a year ago."
"You should call them Rice scissors," I decided.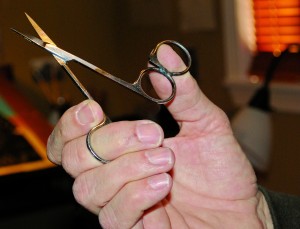 Next, he used a pair of "Rice scissors" to snip my silhouette right there in the studio. I knew I wouldn't have to sit still for very long, but I still proudly declared that it was my first time being "an art model" since college.
Rice's originals from "The Lonely Shadow" will be on display this summer at the Foundry Art Centre near St. Louis, where he'll also be giving a seminar to teachers on the art of cutting paper.
As for his new book tour, the author will visit major cities around the Southeast and Midwest for a six-week promotion of "Mama, Let's Make a Moon." Stops will include Birmingham, Atlanta, Chicago, Cleveland, Memphis and many others.
"And I'm working on my third book now," he revealed. "But I can't tell you too much yet. It's a secret."
By Denise K. James
Photos by Brian Sherman