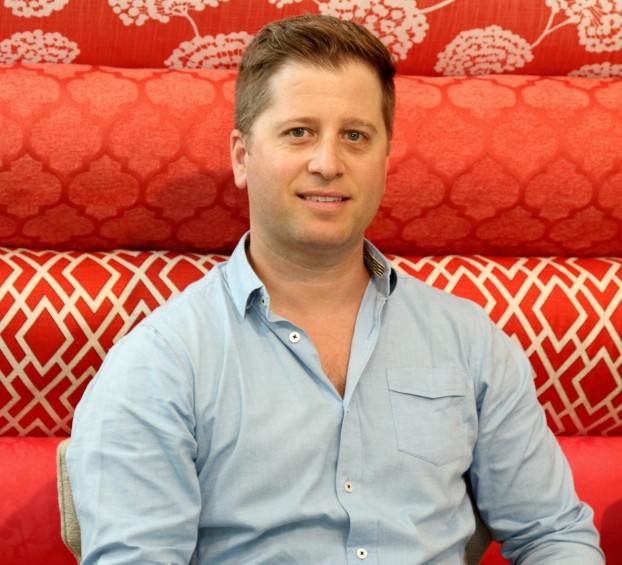 When it comes to fabrics and textiles, for Jonathan Flanary, it's all in the family. Not only is his business, Aiden Fabrics, a local, family-owned business, but his family has been in the textile industry for more than 35 years.
"Ever since I was a little kid, I was running around my dad's fabric store in Greenville," said Flanary. "I grew up in the industry. I've always had one foot in, one foot out of the family business."
Flanary firmly planted both feet in the industry last year when he purchased what is now Aiden Fabrics. The business sells mid- to high-end-level fabrics, home décor items such as lighting, pillows and rugs, and a large line of custom furniture. But, said Flanary, home décor "starts with fabric and it grows from there." Three talented designers, up on trends in textiles and interior decorating, select the fabrics for sale, and all three must vote "yes" to acquire a fabric.
Located on Hungry Neck Boulevard, the showroom boasts 5,000 square feet in the main section and an additional 2,000 square feet of outdoor fabrics. In all, there are more than 2,000 bolts of indoor fabric and 400 bolts of the outdoor variety.
In other words, Aiden Fabrics has a lot of fabric. It might sound a little overwhelming.
"Our bread and butter customer is one who may not have expansive knowledge about fabrics or what to choose," Flanary said. "They come in and say, 'I just have no idea where to start.' We jump right in to help."
Typically, customers are given 10 to 12 swatches of fabrics in different textures and colors to live with at home for a few days. They bring back the ones they like most and go from there.
"We can do it from A to Z. We can help pick the fabric, put it together, install it in your home and everything in between," Flanary pointed out.
Everyone at Aiden Fabrics wants their customers to love what they purchase, and, if the end product doesn't match the client's vision, they will work with them until it does. That level of service is what sets Aiden Fabrics apart, Flanary said.
"We don't aspire to be the biggest and baddest in town, but we will blow the socks off of our competition in terms of our service," he said.
Although Flanary is not a designer himself, he has a decorating tip to share: Consider using modern outdoor fabrics for indoor pieces.
"It's stain resistant, sun resistant and bleachable, so, for families that have kids or pets, it's a wonderful fabric and a breeze to clean," he explained.
Flanary didn't always know he'd end up in the family business. After college, he earned his MBA from the Citadel, then worked in a corporate environment as a manager for four years before buying Fabric Emporium from the previous owner last June. He renamed the store Aiden Fabrics, after his son, and it's been growing since.
Flanary moved to Mount Pleasant from Greenville with his wife, son and dog, Charlie, and the family welcomed little Sadie in May.
"The running joke is that I'll have to start another store named after Sadie," Flanary laughed.
Mount Pleasant would certainly welcome it.
Aiden Fabrics is located at 1136 Hungry Neck Blvd. To learn more, call 843-216-0008 or visit www.aidenfabrics.com.
Story By Erin Danly.
Photo by Rick Walo.