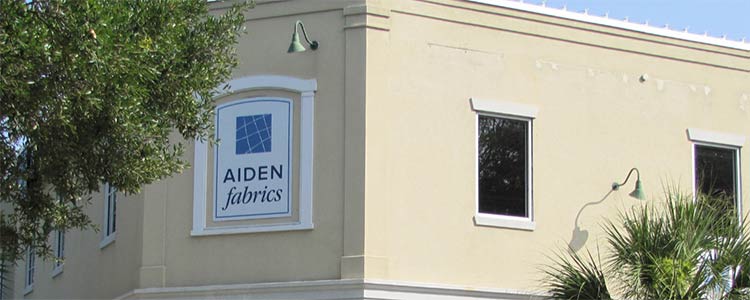 Autumn is in the air, and with a change in season usually comes an instinctive need to refresh and update your surroundings. Family-owned Aiden Fabrics has endless options available to do just that: a vast selection of indoor and outdoor fabrics and wall coverings, as well as rugs and home furnishings.
His family had been in the fabric industry for over 35 years when Ed Flanary opened a fabric store in Greenville. His son, Jonathan, worked in the family shop from a young age, and even paid his way through college by selling and delivering fabrics. In 2014, the father-son duo bought an existing fabric store in Mount Pleasant and renamed it after Jonathan's young son. Today, Jonathan manages the Mount Pleasant location along with his wife, Allison, who handles marketing for the store, while Ed continues to manage his shop in Greenville.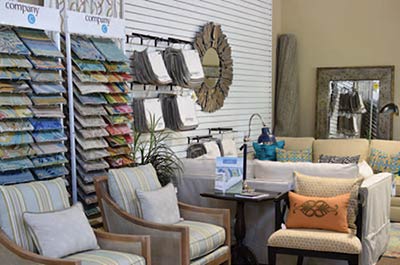 "My parents taught me a lot about the value of hard work, a good conscience and ethics through working in this business," Jonathan said. "That's how I run Aiden Fabrics now. People see excellent customer service and are drawn to it. It's very important to me, and I can't wait to pass the same values and experiences to my son and young daughter."
As the name suggests, Aiden Fabrics specializes in indoor and outdoor fabrics and has more than 2,000 bolts to choose from in-store, in addition to the option of special orders. Several designers are also on staff to help with custom items, including window treatments, indoor and outdoor cushions, throw pillows, upholstered beds and headboards, outdoor porch swing cushions, bolsters, pillows and even bedding and shower curtains.
If the idea of adding flair through fabric leads you to dreaming of new furniture, Aiden Fabrics also offers high-quality lines of designer and custom furniture from trusted companies such as Hooker, Sam Moore, TCS and Dexter.
In fact, Aiden Fabrics offers accessories of all kinds – custom blinds, shades and shutters, lighting, rugs, art and more. You may go to choose the perfect new fabric, but you could come home with a new look for your home altogether.
"Wall coverings are experiencing a huge resurgence right now, and we carry a wide variety of options from some of the best names, like Thibaut and York," said Jonathan. "This isn't the wall paper craze that fizzled and died in the 1980s. People are covering their walls with grass cloth, wall fabric and even leather."
Grass cloth, he said, is especially popular in the Charleston area.
As summer fades and the cool breeze blows a new season in, if you feel that your home or business could be refreshed with an accent of color, a different feel or a brand-new look, Aiden Fabrics has you covered.
For more information, visit www.aidenfabrics.com or drop by the store in the Iron Gate Plaza at the corner of the Isle of Palms Connector and Hungryneck Boulevard.