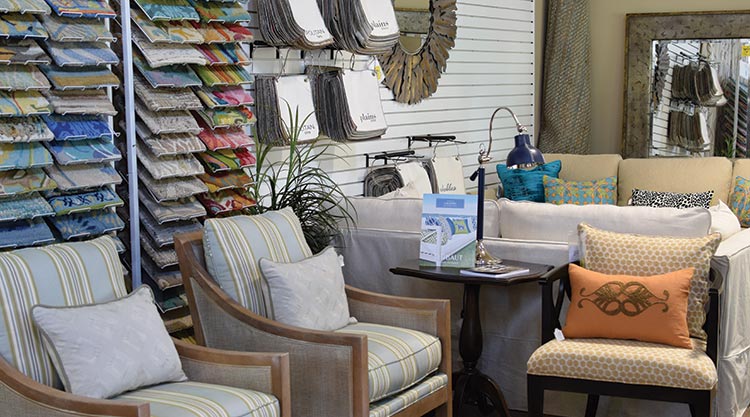 Jonathan Flanary was towing a trailer stocked with 60 bolts of fabric down I-26 from Greenville when we talked. Delivery man is one of his countless jobs as owner of Aiden Fabrics, a comprehensive design house and fabric retailer in Mount Pleasant.
Flanary's family-run business has cemented itself as one of Charleston's top custom textile houses since Flanary and his father took over the former Fabric Emporium three years ago. Aiden's six design experts are behind the handpicked fabrics in homes throughout Charleston and buzzing public hubs like the Fresh Foods center at the College of Charleston. By this time next year, Flanary's business will have even more of a presence.
"We're going bigger," said Flanary, who is currently building a new, 15,000-square-foot store to relocate to just a few miles from the current Aiden Fabrics.
Flanary's new building is almost double the footprint of the current space, and, most importantly, it will be completely family-owned, with Aiden occupying the largest space and renting out 6,000 square feet to another retailer for extra income.
"It'll be brand-new and we'll actually own the building," said Flanary. "So we are creating our ideal space."
After years of painstakingly custom-designing clients' spaces, the Flanarys will finally own their own Aiden Fabrics home. Given the impressive reach of Aiden's design work so far, one can only imagine what a fresh location, an extra 3,000 square feet and dramatic improvement in storefront visibility will do for all of Charleston.
The next time you take your seat for dinner at Slightly North of Broad, enjoy tacos at Mex 1 Coastal Cantina or peek into the lobby of College of Charleston's Science Center, you'll be witnessing Aiden's design work firsthand. From their current 6,200-square-foot location, Flanary and his design experts match handpicked fabrics to specialty projects ranging from family room drapery to beach house decor to study spots at the college.
"No one knows about us," said Flanary. "People come in all the time and say, 'I didn't even know you existed.'"
Without Aiden though, drinks at S.N.O.B., live music at Fill Restaurant & Piano Bar and the hustle and bustle of college lunch hour wouldn't be the same. Neither would nights at home for the many Charlestonians who've trusted Aiden to plan and perfect their interior design.
"Our bread and butter is fabric by the yard," said Flanary.
Fabric by the yard might look like swaths with raw hems in the back of Flanary's truck, but, through Aiden's craft, textiles can be transformed into comforting curtains, playful throw pillows and entire sectionals. They've crafted chinoiserie trims and grass cloth shades. Recently, Flanary oversaw the design of a penthouse condo in Wild Dunes from floorboards to ceilings. It takes a designer to know that the difference between an uncomfortable evening and an intimate moment is in the upholstery. In the case of S.N.O.B., faux ostrich skin was just the thing.
"It takes me driving to Greenville and hauling a trailer," said Flanary, but he is not complaining. When not consulting with designers, balancing the books or driving fabrics down the freeway, Flanary spends every day in the shop with his wife and sometimes their 2- and 4-year-old children. At Aiden Fabrics, they know the importance of feeling at home.
To learn more, visit www.aidenfabrics.com or call 843-216-0008.
By Enid Spitz