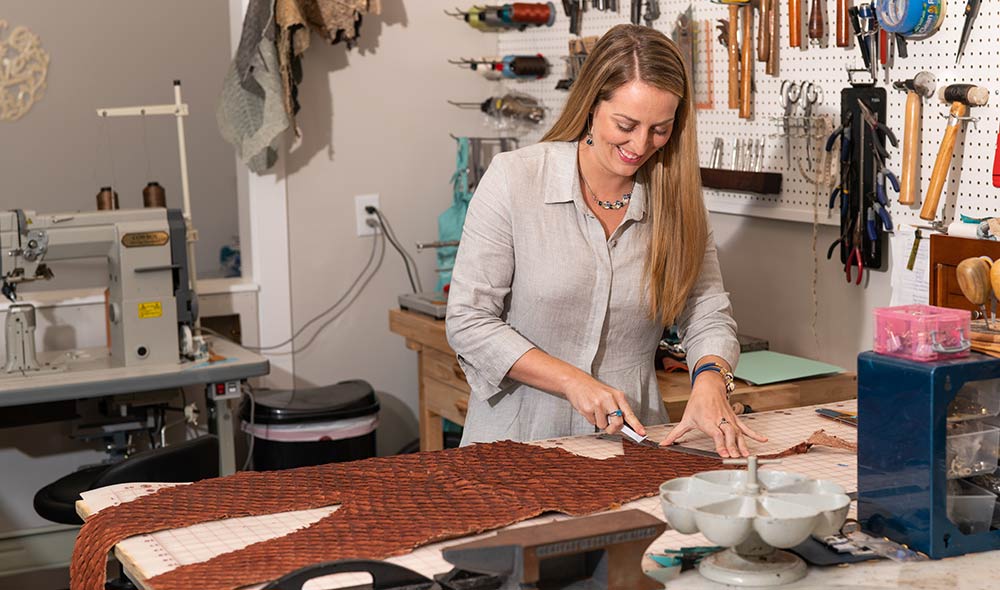 At Erika Lynn Studio and Boutique, texture reigns supreme. From the exotic leathers that adorn her handcrafted bags to luxurious Italian linen clothing, the award-winning designer's tactile inspiration is evident in every piece displayed in the quaint Belle Hall shop.
The boutique is the answer to a question that Lynn began to explore during her post-collegiate travels through southern Italy. After graduating from SCAD in Savannah, Lynn's fascination with the region's handmade sandals sparked her to make a trip to see the famous street vendors in action. During her stay, she fell in love with the culture and fashion, and couldn't help but notice the many similarities between southern Italy and Charleston. How could she transport this vibrant, artisanal culture to her seaside town?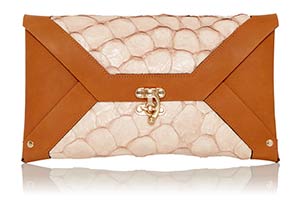 In March 2019, Erika Lynn Studio and Boutique opened its doors, bringing her unique vision of Italian-inspired Southern charm to Mount Pleasant. Alongside Lynn's signature handbags and leather accessories, the shop features airy and comfortable linen clothing in beautiful coastal colors and fun patterns; the embodiment of southern Italian style. Lynn's handmade goods are truly one of a kind, and it is important to her that all pieces in the boutique are as thoughtfully curated and special, ensuring that you won't stumble upon finds like these anywhere else in town.
The wares aren't the only way that Lynn brings a bit of Italy to customers. Her studio is located within the boutique, giving shoppers the opportunity to watch her craft her signature bags, sandals and jewelry as they peruse, just like the sandal makers that inspired her.
In contrast to the soft, muted clothing, Lynn's handmade items are bright and bold. After being introduced to fish leather by an impactful instructor at SCAD, her use of exotic and rare leathers became her signature, turning sleek designs into statement pieces. The large scales of the prehistoric arapaima, a fish native to the Amazon, bring a new perspective to an iconic clutch design. The same design takes on a dramatic and utterly cool persona when dressed in black and gold python, and is equally appealing in its ostrich iteration, where Lynn forgoes the classic dotted skin to showcase the unique scale pattern of the leg.
Lynn's passion extends beyond fashion, and her heart for service plays a large role in her business model. Helping impoverished women in Haiti is a cause near and dear to her heart. Each year, she travels to Haiti to teach women sewing skills, and all of Lynn's handbags come with a protective dust bag assembled by the women that she teaches. She also dedicates a section of her boutique to selling artisanal Haitian jewelry and home goods, including beautiful cow horn cheese boards.
Whether you're searching for a lovely gift, looking to spoil yourself with something luxurious, or wish to watch an artist create a one-of-a-kind piece, a visit to Erika Lynn Studio and Boutique is an experience you simply can't miss.
By Lindsay Bishop