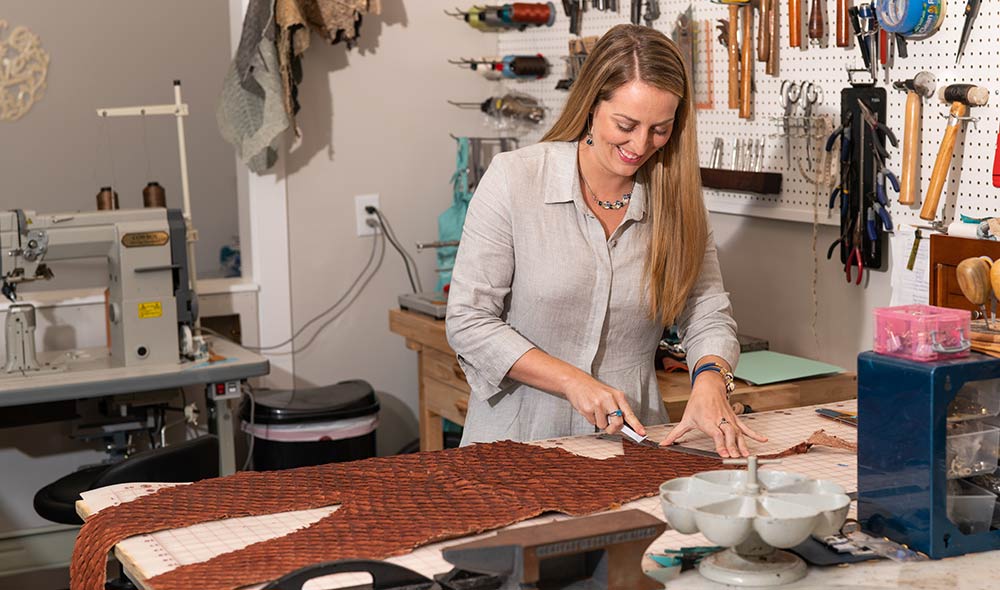 Finding beautiful goods in this world will never get old — but do you ever wonder how things are made? At Erika Lynn Studio and Boutique, you'll find the answer right in front of you. Artist, leathermaker and store owner Erika Lynn McKelvey makes all her leather goods on-site, and you can watch as she crafts each piece.
"After I graduated from Savannah College of Art and Design with a degree in accessory design, I went to Italy where I watched shoemakers make sandals on the side of the road," McKelvey said of the inspiration behind her Belle Hall studio and boutique. "I fell in love with the idea that your shop is right in the open and people can watch you create."
McKelvey's signature is to create her goods with exotic and rare leathers – including fish leather, which she was introduced to at SCAD. From the large scales of the prehistoric arapaima, an Amazonian fish, to ostrich, her pieces take on a cool and sleek design. "People come in all the time, and whether they're new and tell me, 'Wow, what a great concept,' or they're regulars, they love the idea of watching me work."
This incredible experience, intertwined with her bright and bold handmade leather sandals, bags and jewelry, her inventory of Italian goods and works by other artists, and gifts you can't find elsewhere in Mount Pleasant, earned her the nod by our readers as one of the Best Boutiques in town. The honor isn't lost on McKelvey who only opened her doors in March 2019.
"I was very surprised since my store is so new, but it's exciting to be recognized," said McKelvey, who is also a four-time International Design Awards winner, including first place in handbags and accessories.
Erika Lynn Studio and Boutique is located at 608 Long Point Road, Suite F, Mount Pleasant. For more information, visit erikalynn.com.
 By Teri Errico Griffis