Lowcountry Contractors
Best Home Improvement and Remodeling,
Best House Painter
Nominating Categories: Best Interior Design Company, Best Place to Work, Best Builder: Custom Build over $500,000
Jeremy Blackstock, Owner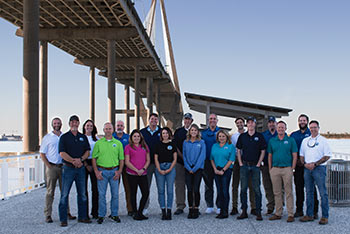 ---
What is it like working with the Mount Pleasant community?
My wife and I raised our four daughters in the Mount Pleasant community. As a result, we have made lots of lasting friendships and relationships. Having the ability to work where we have become so well-connected with the residents has been extremely satisfying. It's very rare that we meet clients who we are not connected to through mutual friends. Our clients also appreciate that we are local, and it provides them with a level of comfort knowing that we will be here for them in the future.
How did your business get started?
I have been working in the homebuilding/remodeling industry for the majority of my adult life. When the opportunity to purchase Lowcountry Contractors became available, I jumped right on it. We have been able to rejuvenate the business and have been growing steadily ever since.
What is your most popular service?
We specialize in residential interior and exterior remodeling, as well as luxury homebuilding. Our team is well-trained for the type of projects we perform, and we are all certified by the manufacturers of the products we install.
What is the most rewarding part of your business?
Without question, the most rewarding part of our business is seeing the reactions of our clients when they see their finished project. Remodeling and custom homebuilding take a lot of up-front planning. Our interior designers work with our clients to make sure that every detail is well thought-out in advance so that the finished project is perfect. The expressions on the faces of our clients when they see the final project revealed is priceless.
What are some challenges that you've overcome?
Recently we have had to overcome COVID-19, building material price increases and supply chain issues. Thankfully, we have adapted well to each of these by adjusting our procedures to help us overcome them. We have implemented COVID protocol procedures and provided testing and vaccination resources for our staff. When material prices increased, we absorbed those without changing customer pricing on any of our contracted work. And when we heard of supply chain issues, we immediately reached out to our product vendors, and they agreed to store material in advance of our needs to help us avoid any material delays.
Describe the atmosphere and services at your business. What do you want customers to take away from your business?
We pride ourselves in providing the highest level of quality and customer service. At Lowcountry Contractors, we will not cut corners and the customer is the number one priority. This has served us and our clients very well over the years.
You've been named one of the Best of Mount Pleasant. What led you to your success?
We have an all-star team dedicated to providing the highest level of quality and customer service. Our team's unwavering commitment to this has led to Lowcountry Contractors' success.
To learn more, visit lowcountrycontractors.com or call 843-242-8838.