Every year, the Cooper River Bridge Run attracts tens of thousands of participants, ranging from hot dog-eating speed walkers to the world's top distance runners.
Over the run's 35-year span, the race has been graced by several famous faces, including actor Bill Murray and TV star Oprah Winfrey. Murray, who owns a home on Sullivan's Island, chose to be the center of attention in 1997, igniting the cannon that started the race.
Winfrey, on the other hand, took a low-profile approach to her participation in the run. Tammy Varn, who has been race director for 18 years, discovered Winfrey's ploy while sifting through the applications.
"After hearing a rumor that Oprah was running in the race, I searched the database for applications we got from Chicago," said Varn. "I noticed an applicant named Francesca Kincaid, which was the name of a character played by Meryl Streep in the popular movie 'The Bridges of Madison County.' I knew it was her."
Murray and Winfrey are not the race's only big-name runners.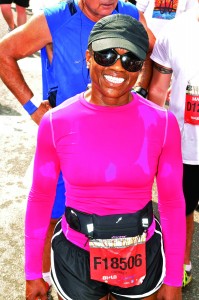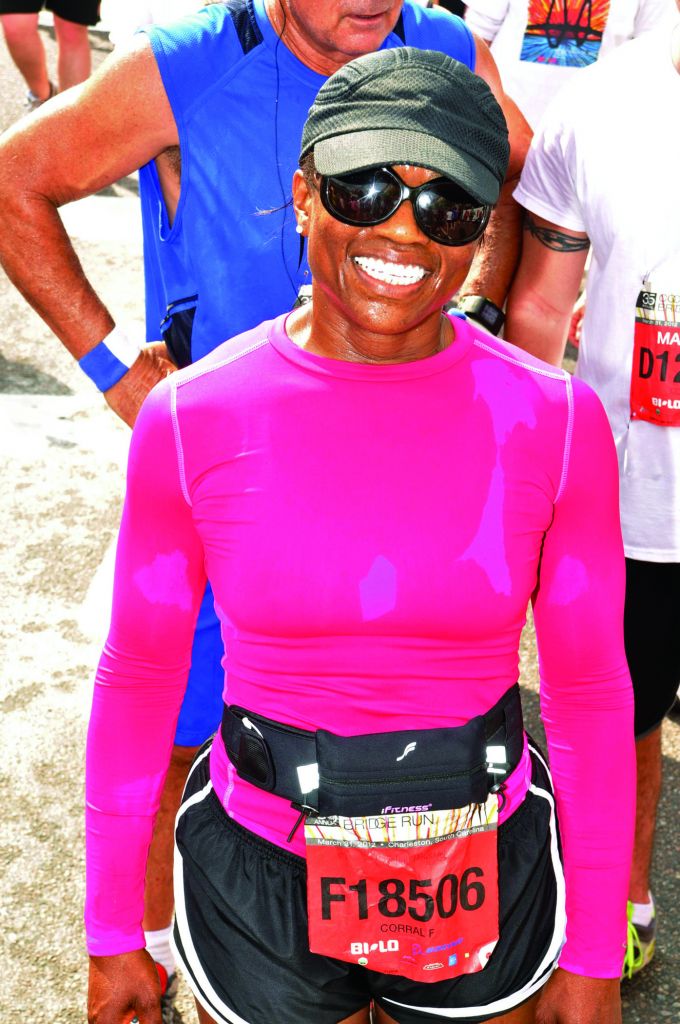 Carolyn Murray
WCBD-TV 2 News Anchor Carolyn Murray, renowned for her journalism awards, has been running in the race since 1989. Not always a runner, but certainly a natural competitor, Murray was turned onto the idea of running when she was told by a friend that it is the true measure of an athlete.
Eight full marathons (26.2 miles), a half marathon (13.1 miles) and a daily running routine of 40 miles a week have turned Murray into quite the runner. Her passion is hereditary.
"My dad was one of those people who, in the '70s, would run around the neighborhood with the dog on a leash, wearing tube socks and a headband," she explained.
The Cooper River Bridge Run is one of Murray's favorite races, a scene she describes as camaraderie forced by happy people in close quarters. It's a "euphoric crowd of people high-fiving and looking out for one another. I'm just happy to be part of the whole spectacle," she said.
Murray typically runs around her neighborhood listening to books on tape.
"Sometimes I end up running one or two hours longer than I expected because the books are so good – I just finished Lincoln," Murray said with a laugh.
When asked to relay one experience she associated with the Bridge Run, outside of the pleasure she gets from seeing everyone come together "running toward better health," Murray cited a slight misunderstanding from last year's race.
The day after the race, Murray was running along the street when someone stopped her to offer congratulations for her daughter's first-place finish. Murray was confused because her daughter, Reese, had decided to pull out of the race at the last minute. Suddenly it dawned on her: She had decided to wear her daughter's running bib under her shirt, which officially made Murray the first kid to cross the finish line.
"Well, at least I was faster than all the kids," she laughed.
Bob Shlau
Bob and Benita Shlau related captivating stories in the MUSC Wellness Center lounge. Unfortunately, I struggled to pay attention because I was preoccupied, rather stunned, by how, at 60, both would fare far better than I, at 20-something, in a swimsuit contest.
Bob Schlau, a vice president at Merrill Lynch, carries an aura of success everywhere he goes – endless trophies, multiple medals and two Olympic trial appearances are a byproduct of his dedication to running. But he has not always been a great runner. I asked him how, as his competition aged and began to slow, he maintained his speed. Benita interjected in a sure Southern accent, "Well, his mom always said he was a late bloomer."
That's how much of the conversation went: Bob reclining comfortably while his wife articulated great tales of his running success. Bob had surpassed world-class runners Bill Rodgers and Frank Shorter and, at 40, became the oldest runner to make the Olympic trials in 1988 – outrunning professionals half his age. A year later, runner's magazines ranked Bob the number one masters – over 40 – runner in the world.
In 1990, Bob was voted runner of the decade by Running Journal Magazine, and eight years later he was elected into the South Carolina Runners Hall of Fame. Over the years, he has claimed more than 100 road race victories, with a best marathon time of 2:17:16 and a best 10-kilometer time of 30:26.
Bob's greatest success came at the Penn Relays Marathon in Philadelphia in 1984, where he hadn't even planned to compete. Bob and Benita both were recently divorced, and Bob was serving as his future wife's trainer. Benita had asked him to pace her in the marathon, a qualifying race for the Olympics. When the race day came around, Benita changed her mind, realizing that the Olympics were something Bob wanted a shot at as well. Bob reluctantly agreed to run the race. He qualified for the 1984 Olympic trials, but that wasn't the real trophy he won that day.
"When we got back to town, Charleston was buzzing with excitement of Bob's making the Olympic trials – his face was on the cover of the newspaper," Benita boasted.
"So did you fall for Bob right then and there?" I asked jokingly.
With a Southern grin and a slight blush, Benita responded, "I was very happy for him." Their eyes met and even Bob couldn't keep from smiling.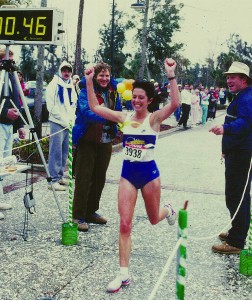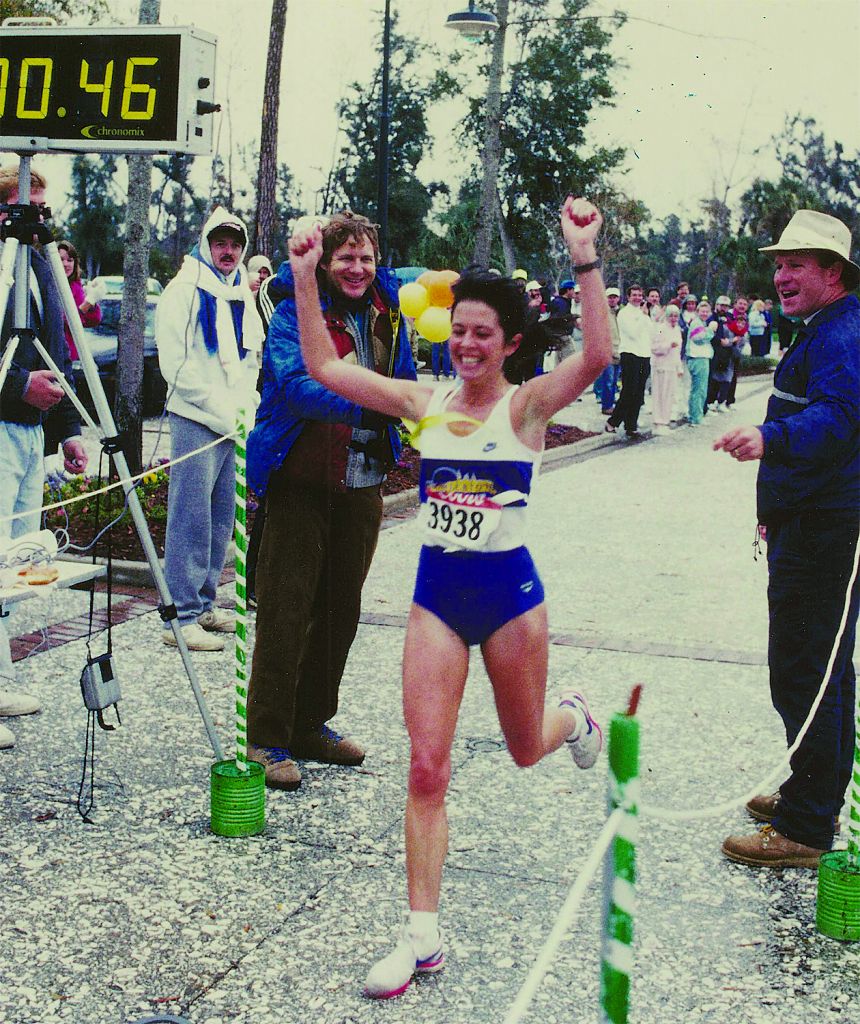 Rives Poe
I was sitting at Fuel Cantina downtown when she pulled up on a 10-speed bike, dressed like a teacher. The clothes made sense because Ashley Hall had just let out. Rives Poe, a teacher by day and a runner pretty much any other time, was just getting off work.
At 35, Poe has become one of the biggest names to participate in the Cooper River Bridge Run. In 2011, she was named one of two long distance runners of the year by USA Track and Field, and she is in the running again this year. Poe also has won the Marcus Newberry award, given to the first place local male and female in the Cooper River Bridge Run.
Like Schlau, Poe has not always been a premier runner.
"I just sort of got enthralled with the Charleston Running Club and the running culture," said Poe, speaking of the days leading up to her elite running status.
The Rives Poe who sat across from me that day at Fuel was a runner through and through. She runs more than 50 miles a week, and she wasn't happy about what she considered to be a poor performance in last year's Cooper River Bridge Run.
"This year it's going to be under 37 minutes," Poe said, referring to her unacceptable time of 38:20 last year.
Poe has run numerous races around the country but maintains that one of her favorites is the Bridge Run.
"The run has been nothing but fun," Poe said, remembering her 2010 race.
Poe's friend, Marc Embler, one of the only six American men to win the Bridge Run, told Poe she would never beat him in a run. Stifling laughter, Poe described a scene when a "lanky, tan, curly-haired man" passed her on the back half of the run. Embler turned around and began running backward and yelling at Poe, "I told you that you would never beat me. Why even try?"
"The crowd must have been wondering what was wrong with this guy," Poe said.
Poe did not end up beating Embler that year, but with her best time of 37:04 in the 2011 Cooper River Bridge Run, Poe finally proved Embler wrong.
Oprah Winfrey, Bill Murray, Carolyn Murray, Bob Schlau and Rives Poe are just a few of the famous faces that have graced the race-party-fiesta-festival that is the Cooper River Bridge Run. On the first weekend in April, the run begins early and the fun lasts late, and, if you're lucky, you might spot your favorite celebrity trotting down Meeting Street.