An Amazing Day: Mount Pleasant Magazine's 2021 Best Of Photo Shoot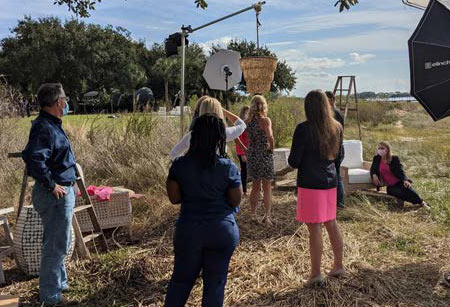 Our 2021 Best Of photo shoot is the most challenging thing Team Mount Pleasant Magazine has done since the world of COVID began.
When the pandemic hit, I knew magazines would help us cope with our changing world. You see, each magazine – however big or small – is designed to build strong communities and bring people together. Examples like professional associations and nonprofit publications clearly demonstrate the power of the print magazine. A lifestyle magazine like Mount Pleasant Magazine is no exception, and with a high level of determination and a creative approach, we've been able continue publishing our magazine, helping bolster the community we serve. Every time our readers thumb through the print or digital pages we bring them some semblance of normalcy and positive stories about their community during a time of such uncertainty.
The question was how Team Mount Pleasant Magazine could possibly execute something as complicated as publishing our popular Best Of 2021 magazine. After tabulating 67,600 votes in the 2021 Best Of voting it was obvious that readers loved the process leading up to our Best Of edition. There were so many questions and challenges brought on by COVID that the prospect of seeing the publication come to fruition was daunting.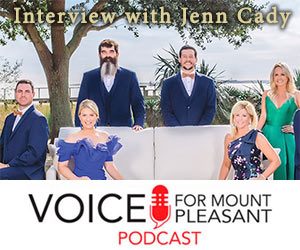 Click to Watch & Learn More
Questions abounded as Team Mount Pleasant Magazine discussed the Best Of issue in early October. At one of the many Best Of Zoom meetings, we all agreed the cover photo needed to be taken outside. We discussed finding a Mount Pleasant location that was recognizable, safe and picturesque. After much conversation everyone rallied around selecting Alhambra Hall as the shoot location.
To secure the location, calls were made and people were contacted. The town, who owns and manages Alhambra Hall, was very accommodating. Fortunately, the date we wanted, Friday, Dec. 4, was available. But no one could guarantee the weather except the big guy upstairs, who received a lot of prayers from our publishing family as we approached Dec. 4. Many questions remained and there was plenty of unfinished business, but at least we had a location secured.
With the location and date fixed, it was time to plan our first outdoor Best Of cover photoshoot. I called photographer Jenn Cady, who's been Mount Pleasant Magazine's lead photographer for years. She and I derived the idea, as Cady puts it, to shoot our 'Vanity Fair-esque cover,' years ago. When you visit www.BestOfMP.Video you can access all our past Best Of cover shoots. You can also listen to Jenn Cady as she takes a break from shooting the 2016 Best Of cover to explain our vision for the Best Of covers moving forward. Because we've brought the Best Of editions to our readers so many times, I believed we could make this happen and so did Cady and the rest of the team. But we also knew this was 2020 and anything goes.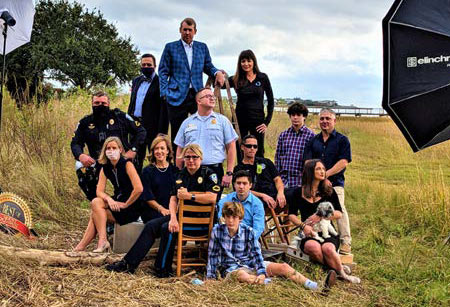 Since the Best Of shoot was going to be held outside, I felt we needed design elements to enhance the natural setting. Angie Balderson and her team at Haven's Furniture were voted 2021 Best Furniture Store and Interior Design. I called Balderson to see if she and her team would be interested in joining Team Mount Pleasant Magazine. I was hoping to add their expertise to the Dec. 4 Best Of 2021 photoshoot. She and her team were ecstatic and immediately worked on ideas to enhance the nature setting with Haven's Furniture furnishings and accessories. Balderson started working with Michelle Waterbury at Jean's Bridal regarding dress and tuxedo colors for the guests who were going to be part of the Best Of photoshoot. With the photo shoot team assembled and the date and location secured, we still needed to invite our guests. But the biggest hurdle remained: ensuring people's health and safety.
Inviting a sampling of the winners for the Best Of 2021 two-page cover shoot and our break pages denoting each category could be a massive undertaking. We asked photographer Mark Staff to join the photo shoot so he could shoot the break pages while Cady photographed the double page signature photo. We intended to be safe while having fun, inviting local caterer Dish & Design to provide food and drinks for our guests to relax and enjoy outside while social distancing before and after their photo was taken. Theresa Stratford and Mandy Willis diligently communicated with each of our guests regarding time slots, dress and explaining our safety protocol.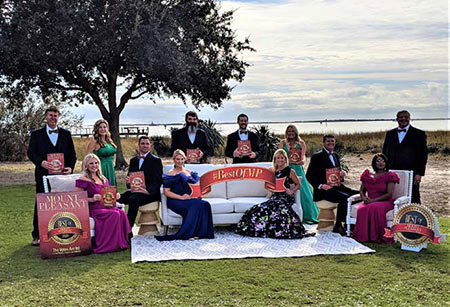 I felt keeping our guests safe was paramount. This gathering had to be safe; everyone needed their temperature checked as they arrived, we had to practice social distancing and sanitizing stations needed to be positioned around the grounds of Alhambra Hall. I knew our mission of safety would be accomplished when the medical professionals at Sea Island Medical Care in North Mount Pleasant agreed to take everyone's temperatures as they entered. With that part of the puzzle completed we felt we had delivered on both of our goals.
All our meetings and preparations resulted in an utterly amazing 2021 Best Of photoshoot. This will be a photoshoot everyone will remember. A fun day we safely celebrated thanks to everyone involved.
All was captured by Mount Pleasant Magazine Videographer Thomas Runion.