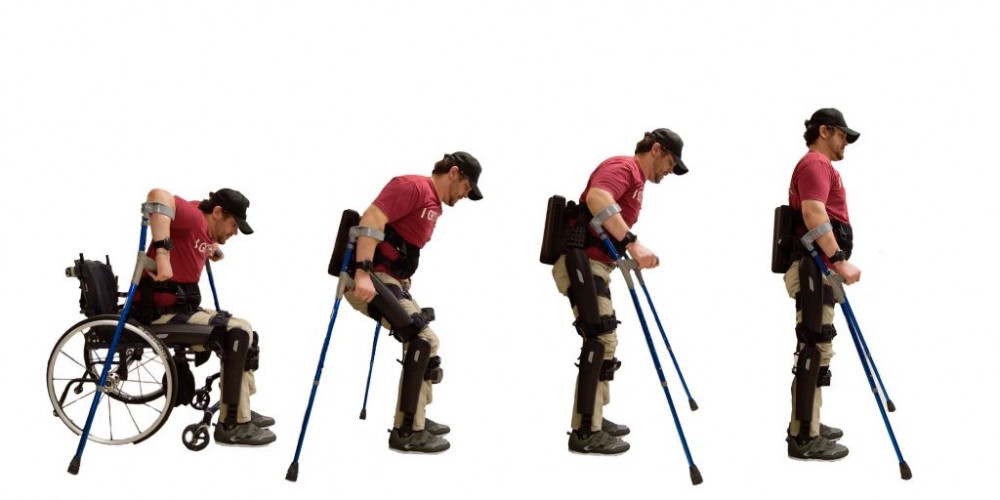 Mount Pleasant resident Adam Gorlitsky celebrated an unusual anniversary on Dec. 30, 2015: It had been 10 years since the auto accident that left him paralyzed from the waist down.
During that decade, Adam has faced the challenge of getting used to life in a wheelchair and leaving his sports-playing high school days behind. Now, at the age of 29, he's tackling a new challenge: participating in the Cooper River Bridge Run on April 2, not in his wheelchair but in his exoskeleton, which would make him the first paralyzed man to walk a large 10K.
According to ReWalk, the company that manufactures the equipment, a "wearable robotic exoskeleton," or external skeleton, lets people with certain spinal cord injuries stand and walk again – or, in Adam's case, run the bridge in what he described as "the pinnacle of the Charleston races."
The bionic contraption consists of braces that strap onto the legs, a harness to keep it on the body and a pack on the back with a rechargeable battery. Sensors at the hips detect subtle changes in balance and pressure, activating motorized joints that move the legs. Crutches help keep the body stable. Adam wears a watch that allows him to choose one of three available modes: sit, stand and walk. The exoskeleton soon will be approved for a stair-climbing function, he said.
"I want this technology to come to life," said Adam, who learned to use the exoskeleton at the MUSC-Roper Hospital Spinal Cord Injury Center. "Not many people know about it."
Indeed, the equipment, launched in 2012 and the only exoskeleton approved by the Food and Drug Administration for personal home use, is on the cutting edge, still relatively new to the market. Adam believes there might be 70 in the whole world and that he's only around the 20th person in the United States to have his own exoskeleton.
They're rare and they're also expensive. ReWalk gave him 120 days to pay off his exoskeleton, and Adam hopes to raise $100,000 before then. He sells T-shirts around town and is running a crowdfunding campaign on Go Fund Me. He hopes taking part in the Bridge Run also will help him raise money.
To train for the Bridge Run, Adam first had to gain mastery over the exoskeleton, a long process that typically takes 30 to 50 supervised sessions. Adam's first three or four lessons were devoted to simply learning how to balance himself in a standing position, and it was another two months before he was comfortable enough to walk. He's has been attending three-hour-long sessions three times a week at Roper since August 2015 and now plans to shift his training to his home on his own device.
"Roper has to sign you off on a bunch of skills, like a driver's test, before you're even allowed to take your exoskeleton home," Adam explained.
He wasn't sure about the exoskeleton at first; after all, he had gotten used to life in his wheelchair. But once he committed to it, which he did in part for his friends and family, he never thought about giving up.
"I felt like this is something I needed to do. That needing to be there turned into a wanting to be there," he said.
Because the exoskeleton requires crutches and relies on a battery, Adam doesn't expect to use it 100 percent of the time.
"Eventually, a realistic possibility is 60 percent in the wheelchair and 40 percent in the exoskeleton, which I think could be an amazing thing," he said.
Adam pointed out that he can stand and walk in the exoskeleton, but he's still paralyzed. He has no sensation below the waist and can't feel the ground beneath his feet when he walks. Still, he's hopeful that a cure for paralysis will be found within the next five to 20 years.
For now, he's focusing on what he can do in the Bridge Run and with his foundation, I Got Legs, which he and his family started last year. Adam wants the foundation to help bridge the gap between able-bodied people and disabled people.
"My disability affects me at a primary level, and it affects my able-bodied friends and family at a secondary level," he said. "There's nothing wrong with able-bodied people admitting their friend or family member's injury is affecting them. But people don't like to talk about stuff like that."
With the support of his friends and family and the community as a whole, Adam is preparing to make history on April 2 and to raise awareness while doing it.
"It's incredible, it really is. I'm helping myself but I'm also helping others," Adam said.
Looking back on his injury, Adam sees it as both the worst and the best thing that ever happened to him because it helped him grow as a person.
"I like seeing it like that," he mused. "I guess that's what adversity does to us – makes us be able to empathize better with people."
If you'd like to help Adam in his goal of paying for his new legs, visit his foundation page at www.igotlegs.org where you'll find a link to contribute on his GoFundMe page.
By Erin Danly.
Photos provided.