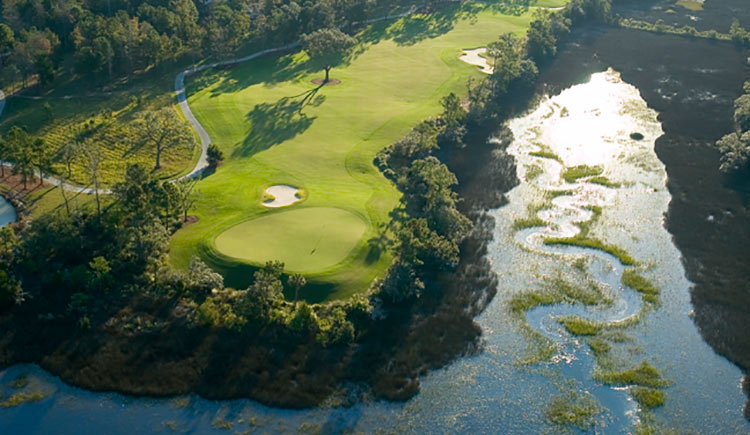 The 4,000-acre Daniel Island, formerly owned by the Harry Frank Guggenheim Foundation and used primarily for farming, cattle ranching, and as a private hunting retreat, is now a town unto itself, with a commercial center that features a mix of shops, restaurants and offices.
There are also schools, places of worship and a seemingly never-ending choice of recreational options that include two superb golf courses designed by Tom Fazio and Rees Jones on the 4,000-acre island.
Beresford Creek and Ralston Creek are two of the better tracks in the Low Country. Both courses wind through open seaside meadows and marshes that once echoed with the sounds of shotguns being discharged by hunters. The only shots being heard now are those issuing forth from the faces of drivers.
Beresford Creek was designed by Tom Fazio. The architect skillfully used what little elevation there is on the course to create clearly defined targets that include the greens that are heavily guarded by bunkers.
The seventh hole at Beresford Creek is a really nice, shortish par-four, measuring 358 yards from the tips. The tee shot is complicated by bunkers left and right and water right. The approach is to a small peninsula green.
Number 15 at Beresford is a beast of a par-three. It's 238 yards from the back and the tee shot calls for a carry over water. Three here is very good indeed.
The 18th is a solid finishing hole, measuring 449 yards with the tee shot over wetlands. There's water left and short of the green and bunkers on each side.
Ralston Creek is a Rees Jones work that is newer than its sister course but just as good. Picking one over the other is like choosing between pecan or peach pie. They both leave a smile on your face.
Ralston Creek is a bit flatter than Beresford Creek and its routing brings the wetlands a tad more into play. Both private layouts offer a sense of tranquility that is hard to find on today. We played our rounds in true Southern style, at an unhurried pace that let us drink in the beauty of the land.
Number eight at Ralston Creek, a 395-yard par-four, is a great example of a risk/reward hole. The tee shot on this dogleg left is over marshland, so bite off as much as you dare in order to shorten the second shot into a sloped green. Place the tee shot too far and you'll wind up in fairway bunkers on the right.
The finisher at Ralston is a super way to end a round. The 557-yard par-five bends slightly to the right and there is water on the right off the tee and to the left on the approach, which makes going for the putting surface in two dicey.
Playing both courses gives you the opportunity to check out the magnificent homes that have been built on the island, some of which will knock your golf socks off. They all have large front porches that relate the building to the streets so that residents will be encouraged to know their neighbors.
Spacious sidewalks and "community-linking" bike paths for riding, jogging or walking also lend to the unified atmosphere. Some residents prefer to live downtown, with a variety of condominiums offering even more convenient access to shops and recreational attractions.
There are numerous parks and green spaces on Daniel Island, the Family Circle Tennis Center and Blackbaud Stadium–both of which host sporting and entertainment events–bicycle, jogging and walking paths and the Bellinger Island Nature Preserve.
There is a lot going on here–symphony concerts, sporting events, food and wine festivals, an oyster festival, road races, a jazz fest, the annual Park Day festival, holiday tree lightings, parades, golf and tennis clinics for the kids, a fitness facility and swimming.
If you are going to be in the Low Country of South Carolina stop by Daniel Island and the Daniel Island Club for a visit. The island is easily accessible via Rt. 526. Visit www.danielisland.com for more information.