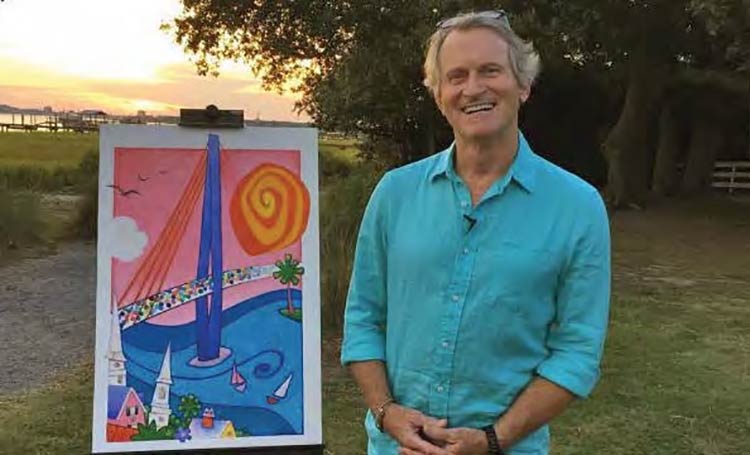 For nearly four decades, artist Tate Nation has dazzled audiences with his bold, whimsical depictions of Charleston, the Caribbean and the Rocky Mountains. With a cartoon edge and a color palette built on luminescent shades that transcend canvas, he delivers nontraditional glimpses of some of the country's most beloved plots of land, cities and ocean-scapes. From capturing the iconic Rainbow Row to Sullivan's Island's ever-popular Poe's Tavern, Nation has immortalized many a Lowcountry stomping ground in his textured, acrylic paintings. On April 1, folks can see his work on the tens of thousands of shirts worn by Cooper River Bridge Run participants, as they scurry to the finish line.
"Having my work chosen for the Cooper River Bridge Run, especially for the 40th, is a huge honor," said Nation. "I've been in Charleston since the very first run and have run it several times myself. Knowing what a huge event it is for so many participants is quite a wonderful thing."

As an athlete, Nation has offered up designs for many of the races he's participated in. Over the years, his inspired paintings have graced the shirts and posters of The Charleston Marathon, The Turkey Day Run, The Old Village Harbor Run and The Charleston Sprint Triathlon.
"I realized that the 40th would be a big deal, and I wanted to be a part of it, so I literally woke up one morning and, before getting out of bed, I scribbled a quick sketch that incorporated the bridge and its cables appearing to be a '4' and a whimsical, swirly sunrise as the '0,'" said Nation. "I revised it several times before I decided it was ready to paint, but, as soon as I started painting, I immediately had a really good feeling that it would be a strong contender. I'm not a fast painter, so it was on my easel for several weeks as I painted numerous layers, until I knew it was done and ready to enter."
The final product is a visual love letter to the Lowcountry and the race that has touched the lives of so many. In Nation's winning design, the sun – a playful orb of tangerine and lemon yellow swirls – rests in a cotton candy pink sky. Runners take the form of multicolored dots, lining the bridge, while a sea of cool blue beneath them holds sailboats. Birds soar overhead, as if to give their blessing to the racers below.
From illustrating children's books to sketching out award-wining print ads for some of the country's top agencies, there is no arena this artist doesn't dabble in. From postage stamps to Coca-Cola bottles, the amount of places a Tate Nation original has surfaced is truly outstanding.
In his college years, Nation found himself on the fast track to a corporate career as a Business major. He eventually came to his senses and switched to Illustration and Design, but not until his senior year.
"I tell other creatives to find what they love to do, what excites them, and make it their own," said Nation. "Let your imagination run wild. Be bold, take chances, experiment. Don't try to paint or draw just like everybody else. That's been done. To make your mark, create a consistent, recognizable style that you love to work in and go to town with it."
Discovering a new muse in every place he visits, Nation is constantly inspired by the details of his surroundings.
"I thoroughly enjoy the process of creating a painting," said Nation. "Over the years, I've developed my own rather unorthodox style and means of painting, and I'm always experimenting and challenging myself as I work on a painting. That keeps it fresh, both for the observers of my work and for me."
By Kalene McCort