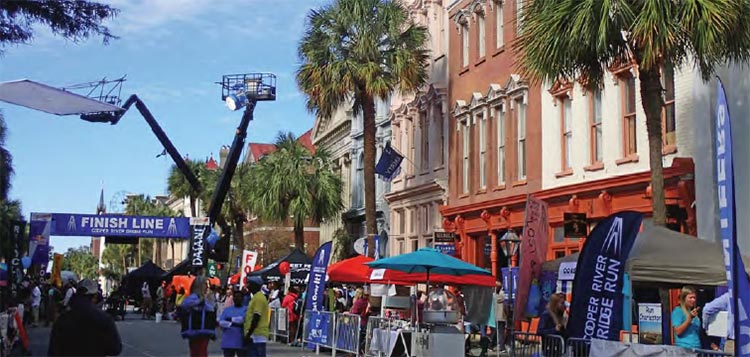 Take a hit Swedish romantic comedy; tweak it as a remake set in a wildly popular U.S. city and cast as the lead one of the funniest members from, arguably, the most successful African-American family in show business today. Then fold in elements of the classic "Groundhog Day" and place key scenes in and around the most famous 10K bridge run in the South. What you'll have is a recipe for laughs from Internet giant Netflix titled "Naked."
While the film was in pre-production, some behind-the-camera types insisted that it be referenced as "Untitled Marlon Wayans Project." They understood that Wayans ("In Living Color," "Scary Movie," "Scary Movie 2," "White Chicks" the parody "Fifty Shades of Black" and much more) had clear marquee value. On the other hand, they felt that a title such as "Naked" might give "the vapors" to the genteel folks in Charleston and the surrounding Lowcountry.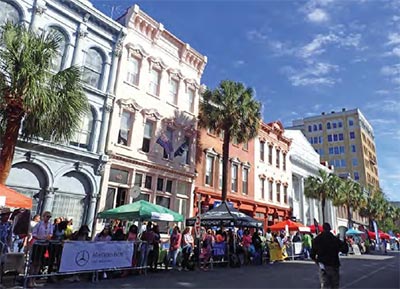 Eventually, wiser heads prevailed and the project moved ahead, officially becoming "Naked" and moving to Charleston last October for principal photography.
In brief, Rob Anderson (Wayans), an engaging young man whose determination clearly exceeds his common sense, travels to The Holy City to marry the girl of his dreams. All the plans for the nuptials go well until after the traditional rehearsal dinner, when Rob and his best man, Benny (Jonathan Todd Jackson) decide to pre-celebrate his upcoming marriage with a nightcap.
That's about the last thing that Anderson remembers before waking up in an elevator in a strange hotel – missing all his clothes! Despite his untenable predicament, all that he can focus on is how badly he needs to get to the church in time for the ceremony.
With one hour until his vows, everything that can go wrong does, including his running out of the mystery hotel and right into the crowd and the competitors heading for the finish line of a major international race.
Unaware that he has burst into the path of the annual Cooper River Bridge Run, he races to escape from the oncoming runners, actually crossing the finish line ahead of the perennial Kenyan winners.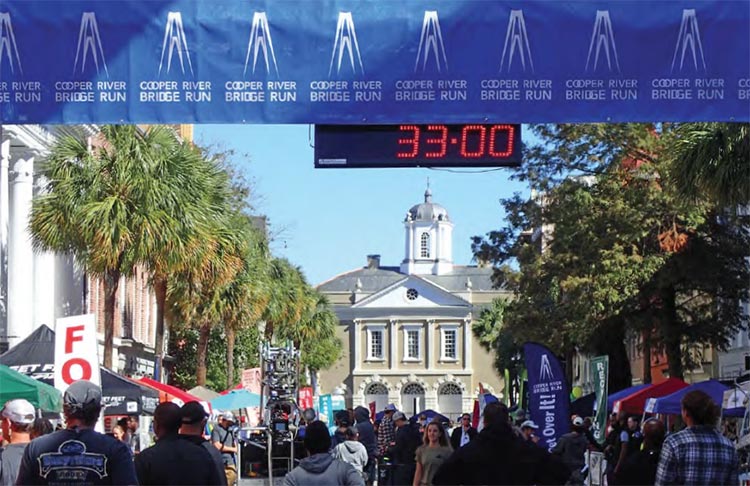 What then ensues is Anderson's manic quest to steal some clothing, outmaneuver local police, escape a confrontation with a menacing motorcycle gang and overcome a host of other improbable and hilarious obstacles.
All that is challenging enough, but in "Groundhog Day" style, he finds himself back in the enigmatic hotel elevator, once again au naturel, and seemingly doomed to repeat his frenzied quest over and over until he gets it right.
Through it all, Rob Anderson perseveres, ultimately growing as an individual as a result of his travails and ultimately becoming the man his beautiful fiancée wants to spend her life with.
While character Rob suffers all manner of comedic indignities along the way, actor Marlon Wayans reflected very positively on his stint filming in Charleston. He has been quoted as saying, "Charleston is such a beautiful, romantic city. Great people. Great food. There's no way to for me to get lean and cut here. The food is too good."
While the star may have found time to sample the savory offerings of The Holy City's superb restaurants, plenty of other folks were scrambling to put together some of those key scenes that were so important to the plot.
What appears to be the real Cooper River Bridge Run, for example, is actually just a truncated segment of the race's final stretch outfitted with props from the actual race, including components from signs and banners to vendor booth locations and even the finish line itself.
Observant Lowcountry movie buffs will think they're looking at the real Bridge Run until they notice that the streets themselves don't look quite right. What should be Meeting Street … seems different.
According to Location Manager Steve Rhea, himself a Charleston native, "for logistical reasons, we had to move the finish line. All of the city's departments and decision makers were extremely helpful, and we eventually managed to move the finish line scenes further south by utilizing Broad Street between East Bay and Church."
"To top it all off," Rhea added, shaking his head, "all this craziness had to be shot at the same time that two major jury trials with media from around the world in attendance were taking place just around the corner from us at the Charleston County Courthouse."
And, if movie-goers might wonder how the Mills House Hotel (where the fateful elevator is situated) managed to move its front entrance – it didn't. Rhea and the production team cooked up a portable awning identical to the hotel's actual awning so that it could be moved to wherever a shot needed it to be. It was necessary to "fudge" a few more locations that suited the production's needs better than ones that actually exist on and around the peninsula. For example, New York's famous JFK airport was portrayed not by an airport at all but by the North Charleston Coliseum and Performing Arts Center.
One location the filmmakers didn't meddle with was the church the hero was trying to reach despite all his adversities. It's the historic Second Presbyterian Church on Meeting Street, right across from Marion Square. When Anderson/Wayans finally arrives there in time to save his wedding and the day, it all makes for a much-anticipated happy ending.
Of course, now, any runners who filled in as extras for the movie's Cooper River Bridge Run sequences will have to do it all again, but for the full 6.2 miles this time!
By Bill Farley