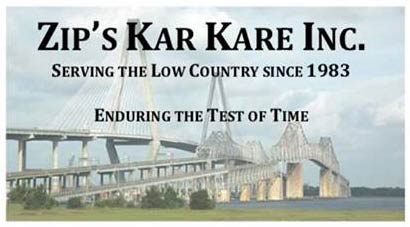 One unavoidable fact living in the Lowcountry, or elsewhere in the country, is auto ownership and what that can entail. At one time or another, it is more than likely you have faced the costly repairs that affect you and your ride. Sometimes, even a visit to the dentist can be met with less fear and dread.
Thankfully, it is both reassuring and comforting to know that among the numerous auto repair shops in Mount Pleasant, Zip's Kar Kare is available to tackle the smallest item such an oil change or tire repair to the much larger mechanical needs for both foreign and domestic vehicle repair.
A sole proprietorship, Zip's Kar Kare has been in business in the Lowcountry since 1983. Managed by Vice President Craig Campany, who has been with the company since 2004, Zip's utilizes the skills of four mechanics in a shop that brings clients back again and again. "We keep our business honest with fair prices and good work so that our clients are happy and will return to us for their automotive repairs," relayed Campany.
Recently voted 2019 Best Auto-Repair Business by Mount Pleasant Magazine, Campany explained, "We don't work on European or classic cars, but we take care of all other vehicles. The majority of our clients are residents here in Mount Pleasant."
Well-known for their reasonable prices and outstanding work, you can check out their glowing reviews on Facebook, where customers again and again express their gratitude to this auto repair shop that keeps us all moving forward.
Zip's Kar Kare is open Monday through Friday, from 8 a.m. to 5 p.m. and is located at 412 Coleman Blvd. in Mount Pleasant. Reach them at 843-884-1171, or email [email protected].