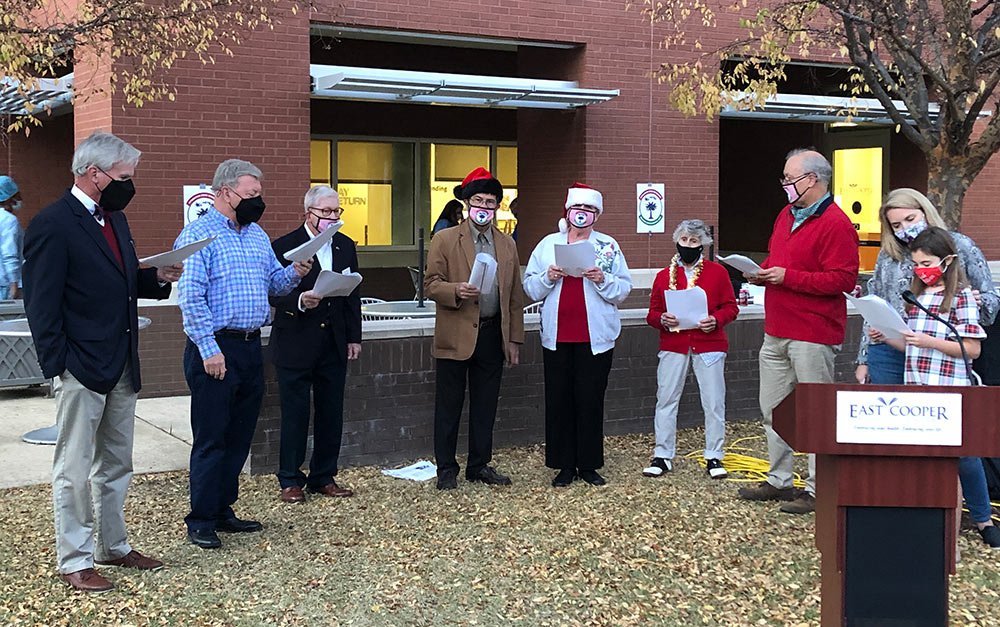 Sometimes all it takes is a phone call to get the ball rolling on a great idea. When Mayor Will Haynie decided it was time to spread joy throughout Mount Pleasant, he started dialing and connecting the dots with other like-minded volunteers. Before long, the Operation COVID Christmas task force was amassed and focused on bringing some holiday cheer to three groups in particular that had been greatly affected by the pandemic: health care workers, retirement communities and unemployed hospitality workers.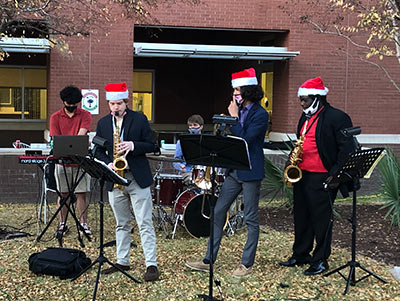 Greg Gilmour, recently retired Commander of the 315 AirLift Wing at Joint Base Charleston, ran the operation. "I got a call from the mayor saying here's the idea; make it happen," he said with a smile. "Haynie wanted to be all-inclusive for the community and reach out to those shut in by the pandemic, as well as the front-line workers. Behind the scenes, the Mount Pleasant Chamber of Commerce was collecting donations for hospitality workers."
Operation COVID Christmas is a joint effort among local nonprofits Feed the Need, East Cooper Meals on Wheels, East Cooper Community Outreach, Mount Pleasant Waterworks, Patriots Point and the Mount Pleasant Chamber of Commerce Foundation. It started a couple of weekends ago with a drive-through donation event hosted by East Cooper Community Outreach (ECCO) in the Patriots Point parking lot, complete with Christmas carolers, The Red Cross Bloodmobile and boxed dinners for unemployed hospitality workers, courtesy of Feed The Need.
Over the weekend of December 12-13, local carolers gathered at select retirement communities, including Somerby, Merrill Gardens, Franke, Shem Creek Health Center, Mount Pleasant Gardens and Atria, Sandpiper Village, Mount Pleasant Manor, The Palms of Mount Pleasant, Sweetgrass Court and Savannah Grace.
Among the task force volunteers is Dr. Mark Bebensee, organist and choirmaster at St. Andrew's Church and recently retired faculty member of The Citadel, where he was Haynie's faculty adviser. He was in charge of outreach to community carolers and felt the carolers got much out of playing for local senior citizens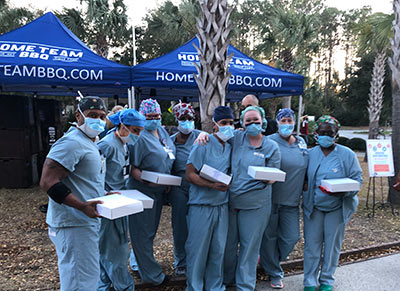 "When Mayor Haynie called me, he expressed the theme as a way to spread joy, not germs. Interestingly, I did not anticipate that the biggest reaction to the singing would come from some of the memory care places we performed at," explained Bebensee. "It was amazing to see the residents' faces light up as they started to mouth the words and tap their feet in recognition of the music."
The weekend was bookended by events at Mount Pleasant local hospitals — Roper on Friday evening and East Cooper on Monday evening — to provide meals for medical workers during their shift change between 5 and 7 p.m. Food was courtesy of HomeTeam BBQ and entertainment courtesy of various carolers, accompanied by Charleston Jazz Academy, a jazz quintet of students from School of the Arts.
The festivities continue this week and into next, with carolers accompanying Meals on Wheels drivers visiting homebound residents.
In addition, the Mount Pleasant Chamber of Commerce and Feed The Need collected tax-deductible donations for the East Cooper Hospitality Fund. The two organizations had already pledged over $10,000 between them to the cause.