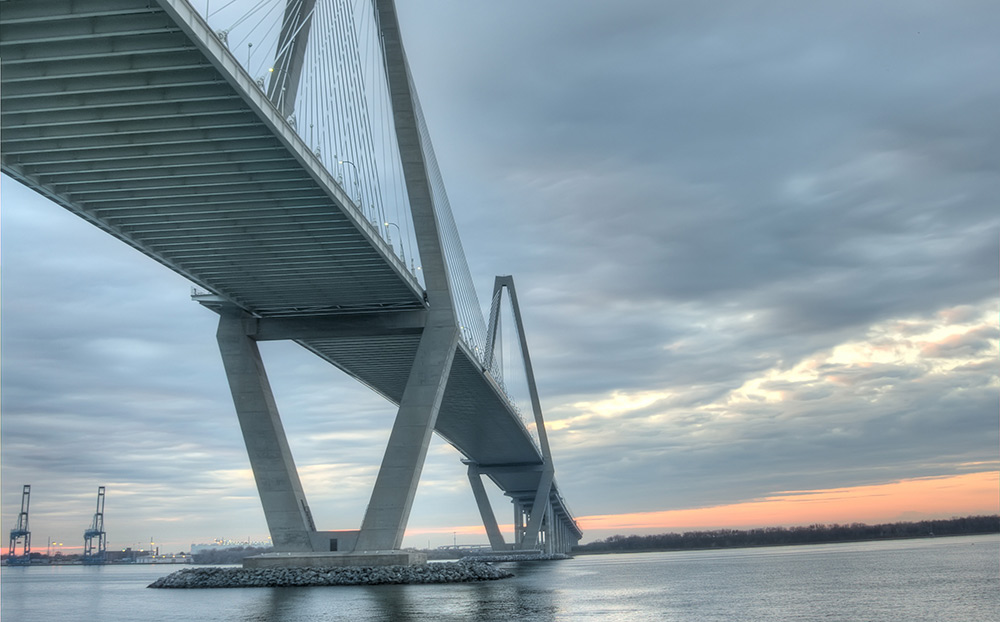 The Cooper River Bridge Run attracts tens of thousands of participants every year. While some are motivated by beating a record, others, like ballet dancer and instructor Marka Danielle Rodgers, are determined to "get over it" to beat the odds.
After suffering a spinal cord injury that left her an incomplete quadriplegic, Rodgers decided to take on the bridge to raise awareness and show insurance companies that technology and adaptive medical equipment are important.
The journey from a wheelchair to walking with high-tech mechanical knee leg braces while undergoing treatment for breast cancer was "a long shot," reflected Rodgers. "I trained from the late summer of 2014, trying to stand, until I completed the Bridge Run in 2016 in my leg braces." Her team of supporters, including the staff at the MUSC Wellness Center, made all the difference. "When I crossed that finish line, I didn't do it by myself," she added. "I crossed that finish line with a whole group of people that support me."
Looking back, Rodgers adheres to the advice she gives to her ballet students, "You'll only know how far you can go when you stop trying."
Like Rodgers, determination drove Jenn Andrews of Charlotte over the finish line in 2019, just one year after losing her leg to cancer.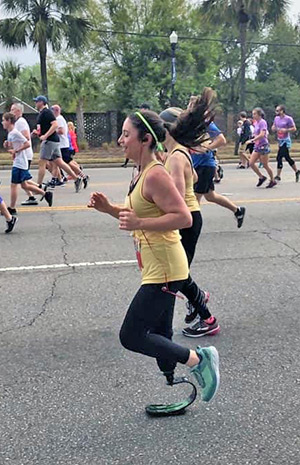 "I had never run a 10k before, so running further in a running blade than I did on two feet was a goal that I really wanted to achieve," Andrews shared. "What better way to feel like I won than to prove to myself that I could do that? It was an amazing experience. I ran the whole race without stopping and was so proud of myself for finishing. Honestly, I had minimal pain after, which was surprising and proved that my training paid off. The whole event was so much fun and the energy was unmatched."
Andrews believes that she does not have to be defined by her circumstances but can instead change her mind. "You might not be able to control your circumstances, but you can control your response," she said, citing her favorite quote.
She serves as the executive director and cofounder of Move For Jenn Foundation (www.moveforjenn.org), a nonprofit organization that funds activewear prosthetics for those who lose a limb to sarcoma, cancer and affiliated diseases, as well as sarcoma research. Andrews launched the nonprofit two months after she lost her leg to cancer. "We help fund prosthetics that are not covered by insurance because they are not deemed medically necessary," she explained. "I believe everyone should have the right and the tools to be active without the financial burden. Every time we give a prosthetic grant, we get to restore a piece of what cancer stole."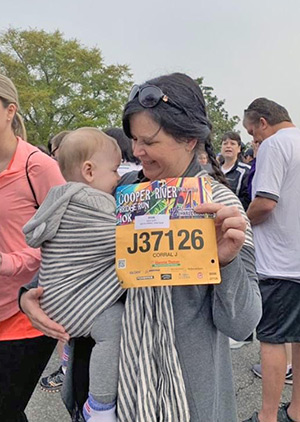 Relationships are at the core of the Cooper River Bridge Run — from the supporters rallying behind people like Marka Rodgers and Jenn Andrews, to the surprise proposal runner Katie Lynch enjoyed in 2016. Love just seems to be the pulse.
"It was Carl's first time running in the Cooper River Bridge Run," recalled Lynch of her now husband. "He was fairly early in his running journey, and he had been training hard to compete for time. I suspected a proposal was coming soon but did not expect it to happen during the bridge run."
When her boyfriend stopped at the top of the bridge and got down on one knee, Lynch was in shock. "He pulled out a ring and asked me to marry him. Of course, I said yes. The people running by us were cheering. It was so much fun and felt like such a special place and time for us."
Three years later, Lynch returned to the Cooper River Bridge Run, this time with her 11-month-old baby, Emmett. "Our breastfeeding journey had been very difficult at the start, but we worked through our challenges, and by this time I had become very confident and comfortable feeding my baby whenever he needed to eat," she shared. When Emmett became fussy in the jogging stroller and Katie realized he was hungry, she secured him in her ring sling carrier and breastfed him. "Some ladies running nearby saw me and started cheering for me and shouting affirming praises. I felt even more amazing nursing my baby in the middle of a 10k at the top of the Cooper River Bridge than I did the year that I ran my personal best."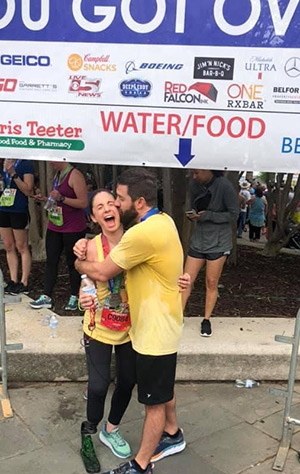 Another couple drawn to the trek over the bridge is Ilana and Alex Dupont, who "go the distance" to take part. This year marks the 10th anniversary run for this travelling duo. Ilana, born and raised in Saskatchewan, Canada, sustained a spinal cord injury in a horseback riding accident at age 14. She started wheelchair racing five years later and met Alex in 2006 at the World Junior Championships in Ireland. Alex, from Québec, was in a motorcycle accident at 17 and lost his right leg above the knee. When Ilana and Alex met, it was love at first sight, and the couple now partners in everything — life, love, parenting, work and training. "Racing together just makes sense!" Ilana Dupont exclaimed. "It was the challenge of that bridge climb that drew us to the Cooper River Bridge Run. Alex is a strong distance racer, and the climb was a piece of cake for him. I, on the other hand, am a sprinter on the track and found the climb rather daunting."
The Duponts run a successful business together, Révolution Sports, where they conceptualize and manufacture adaptive sports equipment. "Success is not final," Ilana Dupont said, quoting Winston Churchill. "Failure is not fatal. It is the courage to continue that counts."
Whether you walk, run or roll, the Cooper River Bridge Run offers the perfect opportunity for anyone to rise to the challenge. Plenty of us get over the bridge every day, as we go about our lives, but when thousands of us gather and do it together, it's nothing short of magic.
By Heather Rose Artushin