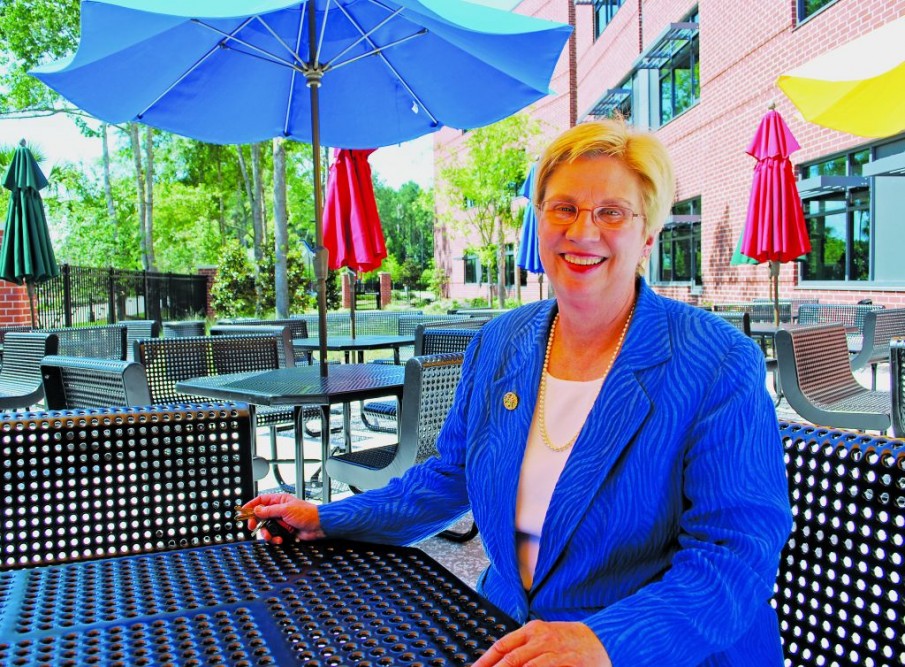 Few people have had a greater and more positive effect on the future of East Cooper than Lucy Beckham, the longtime Wando High School principal who passed away Dec. 13 at her home in Mount Pleasant. Beckham, a former national Principal of the Year, was promoted to the position of executive principal of Charleston County's District 2 earlier this year.
I've written two articles about Ms. Beckham, and I've also listened to her speak a few times to the Mount Pleasant Business Association. Though she was always busy, she was generous with her time and constantly heaped praise on her staff and teachers. And she never tired of bragging about the students who passed through Wando during her 17 years there.
The last time I saw Ms. Beckham, I interviewed her for an article I wrote about her new job with the school district. While I was at the campus, she beamed with pride as she walked me through the Center for Advanced Studies. I was impressed and looked forward to another interview sometime soon so I could write an article for Mount Pleasant Magazine about the almost brand new center of learning. I regret now that I didn't return sooner and that when I do write the article, I will be touring the building with someone other than Lucy Beckham.
Here are some other memories of Lucy Beckham, courtesy of the Mount Pleasant Magazine Facebook page.
–Brian Sherman, Managing Editor
FACEBOOK COMMENTS
Mary Price Pope 
My condolences to her family and to the Town of Mt.,Pleasant.
Rich Buchicchio 
Being new to the community, I didn't know Lucy Beckham, but heard and read very good things about her. My condolences to her family and the town of Mt Pleasant. I think the new High School should be named after her or some kind of tribute should be included at East Cooper when it is built and of course Wando HS.
Lorena Manigault-Smith 
She was a Wonderful Person! Job well Done!
Scott Dort 
Life is short. I wish she could have retired years ago and enjoyed living for herself.
Beth Mcabee 
Not only Lucy but her children were such educators ! I have a Lucy and she always knew her name ! She treated my daughters as her own ! Love
Barbara Manigault 
We have lost a wonderful lady. My condolences to her family and her WANDO family.
Leslie Graham Forlano 
Totally shocked. She was a quite effective educator, administrator and leader. RIP.
Anne Bell Stockman 
I grew up with Lucy in Fountain Inn and knew her and her family as long as I can remember. We are shocked to hear of her passing. My thoughts and prayers are with Lucy's family and friends.
Millibeth Currie 
Lucy Beckham influenced the decisions of so many. Her vision of where our community could be has led us to greatness. As a Moultrie Middle school teacher, I witnessed her creating a new path for us all to follow. Her high school mission included innovation within the middle schools. She saw how they fit together. However, she did not stop there. She encouraged us and our students to create our own educational adventures because she saw the potential in us all. She was willing to do everything necessary for us all to improve everyday!
Annette Green 
My heart goes out to Mrs. Beckham's family. Losing a love one during any time of the year is hard, but especially hard when it during the Holidays.
Sheila Powell 
Wando was the venue, but Ms Beckham's mission in life was to provide the best education possible for all students. When she spoke you felt her passion.
E.b. Hickson 
Lucy Beckham was the backbone of education at Wando! She was principal for the 4 years my daughter attend Wando. She cared about ever child that went to Wando, and always showed care and respect to all!
Cindy Parnell Dawson 
Both of my daughters attended Wando while Lucy was principal. She was a great leader and example for the children attending Wando. Because of her foresight and drive our children received the tools they needed to become successful adults. I am forever grateful!
Sandra Reed 
From bagels with Beckham, to encouraging my strong reader, to holding Graduation in 2009 because 1/2 the children graduating were stuck on 526 for hours because of a bad accident. Lucy went above and beyond to show her love to the children of Wando. The speech she gave to Wando JROTC and Chief Costa was one of a kind and a very special moment I was able to be a part of. Lucy was one of a kind. Genuine!!
Sonya Frey Buckhannon 
She was so inspiring! The first time I heard her speak was at our kids Freshman orientation. I walked out and told my family she is not just a high school principal but a CEO running a well oiled machine and I wished I was in a career path that I could work for her.
Not to mention from that night when she introduced herself to us she knew both my kids and myself 3 years later by name. Unbelievable that she could do that with nearly 4000 students.
Joseph Thompson 
RIP
Barb Bachus Ferson 
In 2002, my son was personally dealing with a terrible tragedy, and Lucy called him on the phone to give him strength. We will always be grateful to her!
Terri Edwards Pye
Lucy Beckham was an amazing leader and educator with CCSD. I am a retired bookkeeper from CCSD and had the honor of attending many meetings with Lucy and meetings she hosted at Wando. She was an influential force in Mt. Pleasant. I had the pleasure of working with her son, daughter, and son-in-law. She will truly be missed! Prayers for her family.
Kelly Firebird 
She sounds like she was an amazing human being. Does anyone know what happened?
Brenda Goddard Wilson 
R.I.P
Jeanne Quinn 
I am so sorry about hearing about Lucy Beckham, my son went to Wando, I never met her but saw her shaking Mikes hand at his graduation I know that she was a great leader and cared for her students!!!
Amy Crockett 
Not only did she care for her students, she cared and cherished her staff! My husband currently works there and from what I saw and heard, she was always very intentional about encouraging and building up her team. She was a great leader and mentor to so many! She will be missed and always remembered!
Ellen Hankin Rickenbaker 
When my son was a freshman he was in the hall changing classes and she called to him. ..his first reaction was yikes. ..did I do something wrong but she held out her hand and said to him I don't believe we have met. ..they introduced themselves she wished him well and he continued on to his next class. Not a ground breaking action but truly one of a caring educator. She will be missed. I too feel the new high school in Mount Pleasant must be named in her honor and memory.
Franne Schwarb 
Each student she touched is better for having known her. She always had a kind word for my son, a cashier at Publix. He will miss her. Naming the new high school for her would be a fitting tribute.
Pat Allen 
Such a sad thing for Mt. Pleasant to lose her so soon.
Karen Klein McGreevy 
I will always remember her vitality and love for her students!!! An amazing lady who could see the potential for each and every one!!!
Melanie Barbrey Davis 
I grew up with Lucy and her mom taught me and I finished my teaching career in the area where her mom's family lives. Such a wonderful student at Hillcrest High in our graduating class. I know she will be remember for her love of students!
M. Elaine Proctor 
What a leader she was! Prayers.
Jean Acsell 
Lucy Beckham did more for education in Mt. Pleasant over the last 12 or so years, than one can fully comprehend. What a huge loss for our children, our schools and our community. God rest her soul.
Amanda Timmons 
In a community of high expectations, Lucy Beckham met them head on and built a legacy that will live on in all of those children that she touched and in the amazing school she has built. You could tell from the second you heard her speak to watching her at countless school events that she genuinely cared about the children she was leading and her vision for the school and she did it with humor and grace. She will be missed.
Jack Little 
No one knows how many underprivileged kids she monitored and mentored.
Caitlyn Ann Tobin 
I wouldn't have even passed high school without her help and support. She did so much for Wando and out communtiy and I'm going to miss her so much. Thanks to her I graduated high school and got into college.
Don Bunting 
She was a great, positive speaker. When I toured Wando with my child, I was lucky enough to have Mrs. Beckham give us a private tour. She knew so many of the students & was so positive, she would attend all the school events, no wonder she was voted #1 Principle. She will be missed very much, A great Lady !
Averie Ulm
My heart is very heavy. Mrs. Lucy Beckham aka the best principal ever passed away. Following her career as the principal at Wando, she became the executive principal of Constituent School District 2 which put her in charge of academics at all schools in East Cooper. She touched so many lives, both young and old. She made a huge impact on the educational system at the local and national levels. She was awarded the title "National Principal of the Year" in 2009. Not just anyone can receive such an honorable title, she worked very hard and earned it. In my opinion, she should have received it annually. Successfully running a school that huge would not be an easy feat. She started the "Freshmen Academy" and helped develop and oversee the Wando Center for Advanced Studies.
She was the principal at Wando for the duration of my high school career. I am thankful that I was able to attend such a wonderful school under her reign. Her motto was "Kids first" and she truly meant it.
This is a quote by her that sums her up.
"I'm very personally invested in this community," she said then, "and feel that I am called to work with the high school students and to try to give them the best education possible."
My condolences and prayers go out to all loved ones and friends who had the pleasure of knowing her, working with her, and learning from her.
Mrs. Lucy Beckham will forever be a legacy.
Once a Warrior, Always a Warrior.
Ann Larose 
RIP prayers to her family and friends.
Jess Clark 
She will be missed
she always had a smile on no matter what
class of 2002
she was a principal most of my cousins and myself
Sharon Taylor Knowles
Although her resume was extensive, it pales in comparison to the character, devotion, and love that Ms. Beckham showed to her students and the entire Charleston community. She is an example to follow, setting the bar quite high. My hope would be that the Charleston community can honor her legacy with a scholarship fund for a future educator and leader who exemplifies the qualities of Ms. Beckham. Her legacy should live on!
Evelyn Deas 
May you Rest In Peace, in GOD'S KINGDOM!!!!
Jeannie Fox 
Ms. Beckham was one in a million. She was a natural leader. She was honest (you always knew where you stood with her; she told it like it was), firm (she stood her ground because she did the research and checked her facts), and compassionate (she put the kids first; everything she did was to give the kids the best chance at success – whatever that success looked like for them), and she had chutzpah (there was a vitality in her that was inexplicable but could be felt the second she entered the room; she challenged the status-quo with her wisdom and foresight; she liked to shake things up). It didn't matter how busy she was or what she had going on in her life, when she was talking to you she made you feel as if you were important, what you said was important, and that she could come with a plan to help solve your problems. She is a legend and will live on in all of our WARRIOR hearts. We will carry on like the Warriors we are and do good things to honor her memory. RIP LGB
Katherine Dunn Surface 
I have a daughter that attends Wando and my expectations far exceeded how that High school was ran under her leadership! My daughter looked up to her as a principal and for all the amazing things she did for Wando, the students, faculty, teachers and staff. "mom she always had a smile on her face yet was serious about all the students getting the best education by working their hardest in school and doing your very best" I always have been grateful as a parent that my child was safe & getting the very best education under her leadership. She will be sadly missed!
Sandy McKinney Leland 
I'm better for having known her and proud to be part of her staff.
Abby Thompson 
Prayers for the family, Friends and students
Linda Pannell 
Sending prayers for her family. So sad.
Lisa Scott 
My oldest son graduated from Wando in 2012. While he was a student there, I had the privilege to volunteer in the guidance office. Whenever I had the opportunity to run into Lucy while there, she addressed me by name and thanked me for my time, never missing an opportunity for a very sincere and personal connection. Each time, and there were many over four years, I was so impressed that she would take the time to do this, not only with me, but with everyone, whether student, staff, faculty or volunteer. This is just one simple example of what made her such a remarkable leader and individual. Prayers and heartfelt sympathies to her family and our community. We have lost a great one.
Christine Crawford 
Lucy will be missed by the community but most importantly she will be missed by her family. I have had the privilege of knowing her children and watching them grow up to become intelligent, creative, and kind people. I know Lucy accomplished so much professionally but her family was most important.