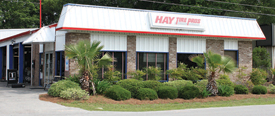 Running a successful, full-service tire and automotive repair center is no small challenge for a family-owned business competing against larger, national chains. However, Hay Tire Pros is winning that battle.
Opened in 1981, the locally-owned business approaches its relationship with its customers on a personal level.
"Our customers are multigenerational. We take care of the customer from a long-term perspective," said David Hay, president of Hay Tire Pros.
He pointed out that preventive maintenance is important to the safety of his customers.
"It's critically important to maintain proper tire inflation," he said. "We install nitrogen at no charge in all tires that we sell. Nitrogen molecules don't migrate through the inner liner of tires as quickly as traditional air molecules do. This means the proper inflation is retained for much longer, which allows for greater fuel economy and longer tire life. This concept has been used by the likes of NASA and NASCAR."
He added that it is crucial for drivers to take care of their vehicles, even during economically sluggish times.
"By performing complete automotive service for all makes of vehicles, we can take care of the entire family fleet," Hay noted, adding that his company offers courtesy shuttles so customers don't have to wait while their car is being serviced. He believes personal service makes a difference.
"We know it's tough out there economically; that's why we offer our customers more than they expect. Each customer – no matter what they purchase, big or small – will receive free nationwide roadside assistance for 12 months. And because Tire Pros is a nationwide network of independent tire dealers, their warranties and free roadside assistance are honored throughout the country. Now that's peace of mind."
For more information, visit www.haytire.net.
Marketing Content