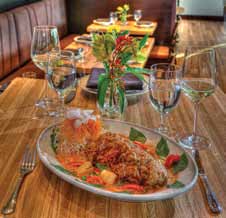 The scene was celebratory. From the second-floor bar, the view of a reedy lagoon blended well with the woodsy, minimalist design – a certain sign that the architect took the indoor/outdoor flow into serious consideration. The guests who had commandeered the cream-colored sofas on the outdoor patio were closest to nature, with an unblocked view of the waterscape below. The exotic ambience outside, like the artwork inside, suggested Southeast Asia. The buzz of conversation mixed with '60s jazz, and everyone seemed to know the handsome, young, Asian owner, Henry Eang.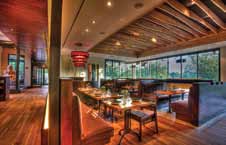 After all, this was an opening reception for friends and regulars from the Basil Thai Restaurant on King Street in downtown Charleston. Named basil, too, this sassy little sister is, in fact, a two-story, contemporary version that might take first prize in a Mount Pleasant restaurant pageant.
The menu at Basil in Mount Pleasant is a near duplicate of that at its Charleston namesake. It is Thai food pleasing to the American palate, with a heat ratio that could be labeled as mild. The spring roll followed by Pad Thai, Thailand's national dish, are the most popular appetizer and entrée, respectively. Added spice and heat can be had by ordering items with asterisks or by making use of the condiments on the table: ground red pepper; tiny, pickled Thai chilies; and garlic chili paste.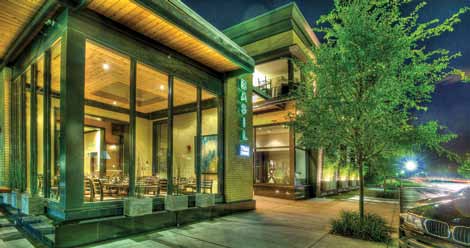 Dinner is served seven days a week and lunch, with smaller portions at a lower price, every day but Saturday. Soup is on the menu, including Tom Kha Gai, which means chicken coconut, as are salads with shrimp, beef or duck.
For the hot entrées, you choose the sauce – say the favored green curry or, if, you like to live on the edge, the black pepper garlic sauce – then opt for beef, chicken, pork or shrimp.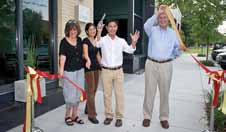 Chef Suntorn's signature dish, crispy, red-curry boneless duck – $21.95 at lunch and $23.95 at dinner – is like a wedding feast, whereas dessert is typically simple, with the fried, green-tea ice cream the star.
Henry and his brother Chai, who runs Basil in Charlotte, grew up in the back of their parents' noodle shop in Cambodia. Henry emphasized the quality and freshness of what Basil has to offer, how the sizable shrimp are chemical-free and how what might look like Reddi-wip is actually fresh cream. He is a fan of natural food and a devotee of Whole Foods. And he praised the architect for her design of Basil's new building in Mount Pleasant.
Similarly, she, Tara D. Romano, vice president of Neil Stevenson Architects of Charleston, said: "Henry has great taste in food, wine and design, having been exposed to some exceptional architectural design in his travels. He had both functional and aesthetic ideas to contribute to the building."
Basil Thai Restaurant is located in the Shops at Seaside Farms, just off Rifle Range Road and the Isle of Palms Connector.