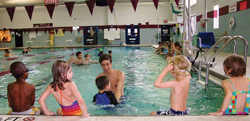 Beating the winter blues isn't easy, but the Mount Pleasant Recreation Department helps out by offering a wide range of activities for area residents of all ages.
From tae kwon do for kids to water aerobics to sweetgrass basket making, there is something for every age group.
"Our approach is to provide many different activities that will appeal to all ages, year-round, indoors and outdoors," said Stacey Harrington, programming division chief of the Mount Pleasant Recreation Department. "We are dedicated to offering exceptional and comprehensive yet sustainable and affordable recreation and leisure opportunities through a professional staff that is dedicated to providing the residents with superior customer service, quality facilities and dynamic programming."
Swimming and aquatic exercises might not be at the front of your mind during the colder months, but the Recreation Department hosts numerous opportunities for water fun at two locations – the R.L. Jones Center and Park West pool.
"The greatest thing about the winter swimming lessons is that it's beneficial for children," said John Crompton, part-time swim instructor for the Mount Pleasant Recreation Department since 2003 and a full-time real estate agent.
"It allows young people to get ready for the summer season and keeps them from having a whole year pass before having lessons again. It's important that children not lose what they've already learned, especially when it comes to water safety. It also gives parents peace of mind. They don't have to constantly worry about their children while playing at the beach or if they are going to make it to the side of the pool."
Crompton, a lifelong swimmer, explained that adults can benefit from aquatic exercises, as well, because they don't strain joints and muscles like traditional exercises can.
"Swimming and aquatic exercises are perfect for people of all physical levels. There is something for everyone," said Crompton. "You can strap on a weight belt and make your way from one side of the pool to the other, and you have all the same benefits as running but without the stress on your legs, knees and hips."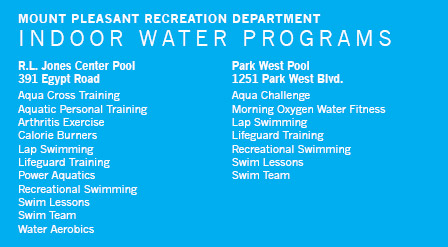 Arthritis Exercise, Aqua Cross Training, Water Aerobics, Aquatic Personal Training and Power Aquatics, along with beginners swim classes and swim teams for children, teens and adults are offered throughout the year. Private lessons, highly beneficial for children who need one-on-one instruction, also are available.
Chaperoned sock hops, a marionette theater, AARP safe driving courses, salsa night parties and family fun nights at the R.L. Jones Center pool and the Park West pool are just a sampling of the special events scheduled for this winter.
Harrington advises area residents to register as soon as possible when the registration period opens because "the popular programs fill up quickly."
For a full listing of indoor activities for this winter, call the R.L. Jones Center at (843) 884-2528 or visit the Mount Pleasant Recreation Department online at www.tompsc.com.
By Stacy E. Domingo