One of Mount Pleasant's hottest new eateries gives residents good reason to stay East of the Cooper when they're looking for a little downtown dazzle without the downtown hassle. Eurasia Café & Wine Bar, located in the Whole Foods shopping center, has a cool bistro vibe and a modern American menu that take the concept of fusion to another level.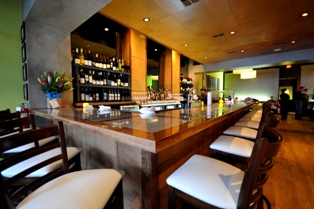 Earthy tones and minimalist décor combine for a Zen-like ambience at Eurasia Café & Wine Bar. The soothing setting is in stark contrast to the no-holds-barred-dining experience driven by the inventive palate of executive chef Meredith Adams. Her eclectic menu builds on regional cuisine, European classics and Asian influences that she transforms using farm fresh local and regional fare and her own distinctive style. One of only a handful of female chefs in the region, Adams teamed up with veteran front-of-house manager Andy Fallen – think Peninsula Grill and 39 Rue de Jean – to bring some sizzle to the suburbs.
"I want sexy food on the plate," she said.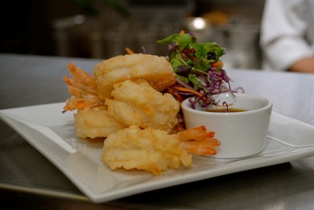 The chef wants diners to have fun with their food, too, and that playfulness begins on the menu with dishes such as Reuben "In The Sky With Diamonds," her delicious take on the Reuben sandwich, served with "millionaire mayo." "Veggin' Out" turns the open-faced melt into something special with hot summer squash, fire roasted peppers, hand-pulled mozzarella and a basil "veganaise."
Summertime starters such as bloody mary gazpacho refresh with the cocktail classics – celery leaves, house Worcestershire – and kick it up with heirloom tomatoes, sweet corn, squash and cucumber. Japanese-style steamed mussels turn another classic sideways by spiking Prince Edward Island mussels with sake, ginger, basil and cilantro.
Adams' award-winning sweet potato bisque with Carolina wildflower honey is a fall menu must-have – a velvety concoction enhanced with white truffle and Virginia's Surry County country ham. Its explosion of savory sweetness is guaranteed to warm the heart and soothe the soul.
The Thai green curry seafood bowl leads an entrée list that mixes the classics with the unexpected – "Cordon Crab Bleu" pairs fried chicken with country ham, blue crab and a bleu cheese Mornay.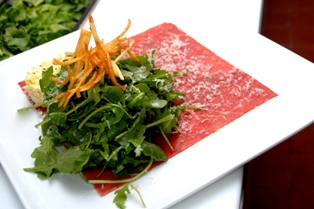 The list goes on: a flame-kissed beef tenderloin; sauteed shrimp and smoked gouda stone grit cake; portabella pot pie with risotto filling. The chef's "Off The Hook Rockafella" tops the daily catch with briny, lightly breaded oysters hot from the deep fryer.
"It's already supposed to be good," said Adams. "Make people crave it."
Fallen's New World-driven wine list consists of more than 70 varietals from smaller, high-quality producers, 25 of which are available by the glass. The full bar also offers an excellent selection of microbrews.
Outdoor seating is available in Eurasia's garden patio, where wide umbrellas, a bubbling fountain and a wall of lush plants create an island of tranquility for feasting under the sun – and one more reason to dine in Mount Pleasant.
For more information, visit www.eurasiasc.com.