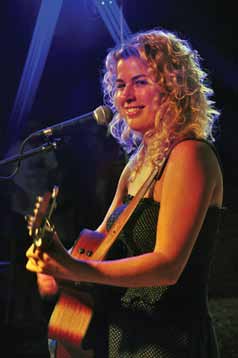 Open a jar of store-bought jam, and you typically get a taste of sweetened fruit. Open a jar of homegrown Barn Jam and you get a taste of easy moods, excellent sounds and groovy surroundings.
Every Wednesday night, the doors of Awendaw Green on Highway 17 open to the public with Barn Jam, a variety of sounds and music styles. Staffed by a group of volunteers who care about the music scene in the Lowcountry, Awendaw Green is the perfect meeting ground for artists.
Admission to Barn Jam is free, and the show features a variety of genres and generational music performed by bands and individual artists from the local area and often from across the country. It takes place in a venerable barn with a professional sound technician and professional equipment. Bonfires, food, friends, networking and an old barn make for great moods and sweet music.
The mission of Awendaw Green is to support the local music scene by providing a platform for showcasing local talent and making it more accessible to broader audiences.
"We support the greater Lowcountry community through music," said co-founder Eddie White. "We began with a few people around the campfire in 2009 and exploded to a few hundred every week."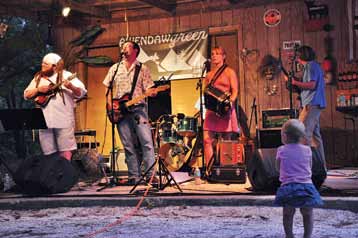 Awendaw Green might be the most interesting music venue in the Lowcountry. A bohemian-style compound, it is the perfect place for writing, recording (beginning in 2012) and mastering. Away from the stress and clutter of the city, it offers scenic grounds, a relaxed atmosphere and state-of-the-art digital recording equipment.
Giving back to the community is important to the founders of Awendaw Green. This year they joined with Patriots Point to produce The Awendaw Green Home Grown Music Showcase, held on Nov. 13 at Patriots Point.
"We were real excited to partner with Patriots Point," said White. "It's a way to connect people to good causes through music, and it also benefits our local artists."
The show, which will support the Patriots Point Institute of History and Science and the nonprofit Awendaw Green Arts Institute, ran from 10 a.m. to 8 p.m. Tickets were just $5. They hope to repeat the event next year.
"We are a real bright flame burning every week and a great connection point for artists," White said. "We are being met with new opportunities on a much more consistent basis to showcase everything that our local music scene has to offer. We want to network local artists and bands with each other, music enthusiasts and fans."
For the scheduled acts each week or to find out how you can take the stage, visit www.AwendawGreen.com or see the Calendar on Mount Pleasant Magazine's website.