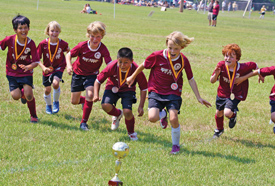 There is never a shortage of recreational opportunities in Mount Pleasant, with so many great neighborhoods to explore on foot or bicycle, an assortment of parks with tennis courts, basketball hoops and big grassy areas for playing ball, and the waterways available for all means of aquatic pursuits. And the Mount Pleasant Recreation Department does a terrific job of offering a wide range of activities for those who prefer organized sports.
"It is important for the citizens to know that we are here to provide them with a service that will create many good memories for them and their children while at the same time offering opportunities for them to learn and be active," said Ken Ayoub, who has 33 years of experience in the recreation field, the past 15 as Mount Pleasant recreation director.
The website, www.MtPleasantRec.com, is the access point to find information about recreation activities for all ages and interests. According to Ayoub, the site "will be presented to the residents of Mount Pleasant in a new and improved fashion in September. It offers the entire recreation program at your fingertips and a click of the mouse. Our entire 50-page program brochure is available online through the website, thus not only offering the convenience of quick and easy access to information about all of our programs but helping us save paper by eventually printing fewer brochures."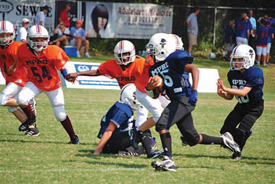 "Our focus is to present the residents of Mount Pleasant with exceptional, comprehensive, yet sustainable and affordable recreation and leisure opportunities," said Ayoub.
There are six recreation locations in Mount Pleasant and more than 12,000 participants in the youth athletic program alone. Baseball, basketball, soccer, softball, volleyball and cheerleading are all open for children through the seasons. The department also offers wrestling, lacrosse and ultimate Frisbee, along with dance, art and fitness classes, tennis, Wii bowling and boat safety.
Town residents, who highly regard their football, are proud of having taken the South Carolina Athletic Program Football State Championship in three separate divisions for several years. This program gives middle schoolers a chance to play football as an organized competitive sport prior to beginning high school. For those whose professional football career dreams are behind them, the Recreation Department hosts an adult flag football league.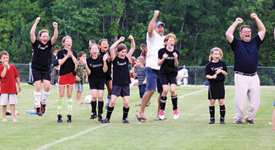 Individuals, young and seasoned, can bring their skateboards and enjoy the skate park located at the Richard L. Jones Center on Egypt Road. Annual memberships are available, as are camps and free skateboarding days beginning in September.
The Mount Pleasant Recreation Department also offers unified athletics, which gives youngsters with disabilities the chance to play a sport on a team of players with and without disabilities. Teammates are matched according to ability and skill level. Some players participate with a buddy, while others can play on their own. Smaller fields with modified equipment and rules are sometimes utilized to ensure fairness and safety.
"Whether a child wants to play lacrosse or learn how to play the piano, the opportunity to do so is here," said Ayoub.
With everything the town offers, an entire multi-generational family can find activities at www.MtPleasantRec.com.
"If a community is committed to provide their residents with a superior quality of life, the way Mount Pleasant is committed, recreation departments are without a doubt one of those components necessary for that goal to be reached," said Ayoub. "We play a very important role in not only the development of a community but also the total development of our children."
If you aren't the athletic type, volunteers are always needed to help organize and supervise activities. Spectators are also welcome at all events. Squeeze the last bit of summer out of this year – and take advantage of the upcoming fall weather – by going out to show your support and cheering on your neighborhood teams. You might even be inspired to participate; this year's spectators could be next year's winners.
For more information, visit www.MtPleasantRec.com.