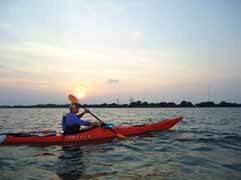 The waters of Chicken Creek are dark, and the foliage on the banks is dense. Now within the Francis Marion National Forest in McClellanville, this was Sewee land in centuries past. As today's fiberglass kayaks glide effortlessly through the still waters, they follow the same paths as earlier birch canoes.
Along with some young tourists and guided by John Dupre, a retired tree specialist with the U.S. Forest Service, an early autumn Sunday found me paddling a kayak with Nature Adventures Outfitters. Owner Kathie Livingston and her naturalist guides readily share their vast knowledge of the Lowcountry's waterways.
Dupre certainly knows his trees, Nature and the region's early history. He explained that the Sewee Indians lived in a large village on Awendaw Creek prior to the British invasion in 1670. As we paddled, he told the story of their demise and analyzed the flora and fauna: "That is a muscadine grapevine. … these trees are white oaks. … look, yellow gerbera daisies. … those are wood duck houses. … the gnarled "knees" of the cypress give it stability."
"See how the endangered swallow-tailed kites swooped down on that wasp nest? These birds winter in Brazil and throughout South America," Dupre added.
For this black water trip, you can opt for a two-hour or threehour gentle paddle; the latter allows more time on the Santee River.
A benefit of the Lowcountry's mild climate is that kayaking is possible year-round. As Dupre put it, "I'd rather paddle in January than in the heat of July."
Chris Crowley, head steward at Coastal Expeditions, echoed that sentiment, explaining why this is a great time to go kayaking.
"The temperature is not so hot that you can fry an egg on your forehead. With watersports, you have to expect to get wet. When the air temperature is cool and the water is still warm, it's just perfect," he said.
"November and December are the best time of year to be out on the water because of the transitional features of our saltwater estuary," said Crowley. "It's a peak time in bio-diversity, because we have visitors. We are on the flyway for birds going south."
Transient birds participating in the annual migration include raptors – birds of prey such as hawks, falcons and eagles; passerines – smaller perching birds such as warblers and finches; and migratory waterfowl such as ducks, geese and swans.The birds take a break in the Lowcountry because there is so much good food in the area. Shrimp, oysters and marsh grass are all in season.
"The all-you-can-eat, 24-hour seafood buffet is hoppin'," Crowley explained.
Luke Pope-Corbett of Charleston Kayak Company agreed that autumn kayaking is a great way to spot birds and wildlife. He said many summer residents are still in the Lowcountry as well, and the wealth of fish in area creeks are a magnet for bottlenose dolphins. In freshwater areas, alligators are on the banks warming themselves in the sun.
"To people who have never had the pleasure of paddling with alligators, for the most part – as long as you exercise normal caution – they are no particular threat to kayakers," Pope-Corbett explained.
He recommended the Cypress Swamp trip from December through the end of April, a unique environment under a towering tree canopy and through cypress knees. Given the chance though, he'll reel off a list of five or six other favorite places to put in the water.
"There are lots of nooks and crannies, and so many little spots to access," said Pope-Corbett. "I call it the backyard wilderness – we are so lucky to have access to all these areas."
Frank Perkins, owner of Time Out Sport & Ski, indicated his favorite location for kayaking changes depending on the day, the weather and the amount of time available. He agreed with the others about the time of year, though.
"Fall is by far my favorite time to paddle," he said. "The sun is at a lower angle on the water, there are fewer bugs, no heat and far fewer motorboats on the water."
Paddling Shem Creek seems to be the most popular kayaking excursion in Mount Pleasant. It is a social experience, especially on weekends, when the creek is almost as busy as Coleman Boulevard above. Other kayakers and boaters say hello, and the crowds at the waterfront bars always wave.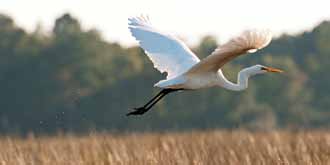 Nature Adventures' Shem Creek tour goes to Crab Bank, a heritage preserve and bird rookery. A variety of Eastern shorebirds share this spit of land near Charleston Harbor, nesting and raising their young.
Crowley is also a fan of kayaking the Shem Creek area.
"There are dolphins all the time on Shem Creek. Crab Bank is a productive bird-nesting area and a great place to see the city. And Fort Sumter is a great place to see the Charleston skyline," he said.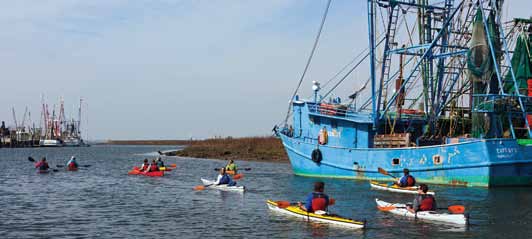 Other sights on a Shem Creek trip include shrimp boats, Castle Pinckney and area lighthouses.
When you decide you love to kayak and are ready to invest in equipment, Time Out Sport & Ski can help you select the right kayak and supplies for your excursions. The company specializes in recreational, touring and sit-on-top kayaks, mostly made from roto-molded plastic. Fishing kayaks also are hot right now.
"It's no wonder Mount Pleasant is blessed with more than one outfitter. There is so much to do," said Crowley. "Everybody that's doing it is doing it because they love it."
Happy paddling!