Ever feel the urge to get out of town – even for just a few hours? Instead of driving over one of the big bridges, take a trip across the little bridge on Ben Sawyer Boulevard and spend some time on Sullivan's Island. After the obligatory walk on the beach, stroll down Middle Street to High Thyme Cuisine for a meal that is a vacation in itself.
The patio provides a relaxing environment for conversation and people-watching, while the inside atmosphere is cozy bistro. The crowd is a mixture of locals and tourists, who discover High Thyme through recommendations from friends or from airport taxi drivers who enjoy sending their passengers to a great spot off the beaten path.
Dinner is served Wednesday through Saturday. Tuesday nights are reserved for the tapas menu featuring smaller portions. High Thyme is open for lunch Thursday through Saturday, and Sunday is all about brunch. Chef Taylor Still, who has been with the restaurant for over six years, has created a tempting menu; just reading it is a mouthwatering experience.
Go with a group on tapas night to order a sample of many different flavors: seared tuna with chili ginger honey, Szechuan beef tenderloin over wasabi glazed potatoes or grilled scallops with jalapeño creamed corn and bacon gastrique – which is unbelievable. They could serve the sauces by themselves in a soup bowl.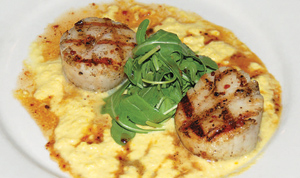 Some bistro staples appear – grilled beef tenderloin, pan seared salmon and baby spinach salad – but Still's sides and sauces raise tradition a notch. Two good ones are the smoked gouda grits with arugula and lemon caper brown butter, and Yukon Gold mashed potatoes with succotash and avocado lime puree. The shrimp and braised fennel linguini is a light take on pasta, combining grape tomatoes, wilted spinach, herb butter broth and shrimp that is always domestic and local when possible.
Emily Daniels, High Thyme's manager and occasional bartender, recommends the risotto to anyone who will listen; she is right to sing its praises. Chunks of roasted mushrooms and tender cut asparagus spears are folded into the creamy rice, then topped with shaved parmesan cheese and white truffle oil. A protein from the night's offerings, such as sautéed shrimp or roasted chicken, can be added, but it certainly isn't needed.
The dessert menu always includes key lime pie, a decadent flourless chocolate bomb and a flavored crème brulee. Lately though, sous-chef Will Doss has been making bread pudding. The name does not do it justice. The base features nuts and seasonal berries, and each serving is individually baked, then topped with caramel and served with vanilla ice cream. It's worth every one of the 25 minutes you'll wait if you don't order it at the beginning of the meal.
High Thyme has a full bar, a good selection of bottled beer and a nice wine list. Reservations are recommended since the dining room seats about 40, with 32 more spots outside.
For more information, visit www.highthymecuisine.com.