Some local residents refer to our characteristic mode of dressing as the Mount Pleasant dress code. Casual is the main theme here, laid-back, preppy and beachie all tell the story.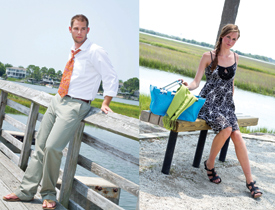 One place Mount Pleasant residents gravitate toward for this classic look is The OOPS! Co. Patricia Kearse, who manages The OOPS! Co. stores in Mount Pleasant and downtown Charleston, pointed out that in addition to female attire, she carries the male version of the Mount Pleasant dress code, as well.
"We pretty much have everything a casual guy will want – minus suits," she said. Khakis, button downs and three-button knits are some of the particulars.
She further explained: "Shopping at The OOPS! Co. is always an adventure because customers never know what they will turn up. We get in golf and tennis wear and sundresses that can go out at night, as well as the layered look."
Even Patricia does not know what she is getting until it arrives; the store sells overruns of brand name items for about half price. Teens, college kids, beach-goers, moms, retirees and all other lovers of casual and sportswear frequent her stores.
Down Ben Sawyer Boulevard in the small shopping center known as Gateway to the Beach, Kathryn Poe owns Mary Mojo Boutique.
"We are more affordable than ladies' high-end boutiques and cater to an array of ages and sizes from 2 to extra large," Poe pointed out. "Although we don't go heavy into trends, we do carry the asymmetrical tunics, long sweaters and the distressed or worn look, like our Nic + Zoe jeans. We have scarves, fun jewelry and other accessories that can transform the classics."
Big into color, Poe said navy and cranberry, as well as neutrals such as blacks, grays, tans and taupes, will be in this fall. Funky tunics worn with leggings will make the transition to autumn.
A near neighbor to Mary Mojo is the Shoe Fairy – like a fairy godmother for all who love shoes. Marjorie Small is passionate about being the shoe fairy. She told us what to expect as summer wanes and autumn arrives.
"I feel like we can continue to wear open shoes, maybe not our colorful flip-flops (within code parameters in the spring and summer) but sandals, 'cage sandals' and 'peep toes.' With heels, there is not one particular style, and we are seeing more pointy toes and decidedly round toes, like in the 1940s. Most Mount Pleasant residents go for two- to three-inch heels rather than stilettos.
Wedges are still popular, as are boots and animal prints, and, in keeping with the Mount Pleasant dress code, safe, comfortable shoes with feminine looks."
The Pitt Street Bridge, a Mount Pleasant icon, was the site of our first fashion shoot. Locals visit the bridge, which years ago extended all the way to Sullivan's Island, to stroll, sit idly on a park bench, cast a fishing line or ride their bikes.
Ocean breezes cool a steamy summer day, and the view at the end of the bridge features both the Sullivan's Island lighthouse and the spit of land that juts into the Atlantic and its enviable, waterfront homes.
The Shoe Fairy and Mary Mojo Boutique are located at 1405 Ben Sawyer Boulevard. The Oops! Co. is located at 696 Coleman Boulevard in Mount Pleasant and downtown Charleston at 326 King Street. For more information, visit their websites at:
www.shoptheshoefairy.com
www.marymojo.com
www.oopsco.blogspot.com