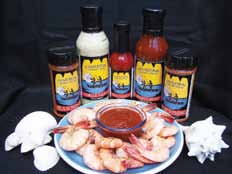 Crazy about seafood and enamored with the place they both have always called home, John and Mary Caroline Rhea decided in 2008 to merge their passions by creating a cocktail sauce that would capture the essence of their native Mount Pleasant and, as they like to put it, "give seafood the respect it deserves."
Today their young but growing company, Charleston Original Sauces, markets five seafood-related products on their website and at retail locations along the Carolina coast and in Tennessee. They distribute their own brand of cocktail sauce, hot sauce, blackening, seasoning and tartar sauce from their home in Mount Pleasant, storing the products on the first level of their three-level house.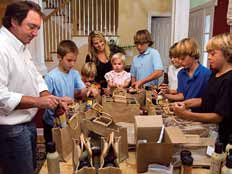 It's not as if the Rheas really needed to add another layer of complexity to their already busy lives. John was in real estate development, while Mary Caroline was a successful trainer and author. And they were raising their blended family of seven sons and a daughter, all now between the ages of 2 and 13. Middle school sweethearts in Mount Pleasant, they went their separate ways, married and divorced before getting back together.
"We have a passion for seafood. We love seafood; we're bad about it. If people spend the time to catch shrimp or oysters or the money to buy them, they shouldn't have to use glorified ketchup on them," Mary Caroline said, citing one reason why they chose to add the profession of entrepreneur to their resumes.
The Rheas' passion for seafood is matched only by their passion for all things local. They are members of Lowcountry Local First, an organization that promotes businesses owned and operated by area residents, and they have donated their cocktail sauce to the oyster roast benefiting the Sewee Association, an organization promoting environmental education and rural heritage. The Rheas also provide the sauce for the oyster roast at Mount Pleasant Academy, where five of their children are students.
Developing just the right blend of ingredients for their cocktail sauce was a time-consuming but apparently enjoyable task for the Rheas.
"We made batch after batch to come up with the recipe," Mary Caroline commented. "We ate seafood every night."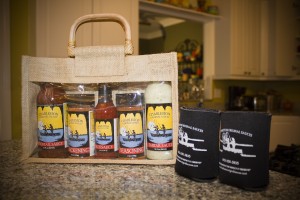 The cocktail sauce, hot sauce and other products distributed by Charleston Original Sauces are produced and packaged at Braswell's, a company established in 1946 in Statesboro, Georgia. The merchandise, 150 cases or more at a time, is trucked to the Rhea home, where John, Mary Caroline and the children who are old enough to help are responsible for distribution.
If all goes as planned, the Charleston Original Sauces warehouse will someday outgrow the Rheas' Mount Pleasant home. The move to a larger and more useful facility will be necessary if Mary Caroline's vision of nationwide distribution becomes reality. Locally, 10 grocers carry their products.
"In the next two years, I think something good is going to happen," Mary Caroline said. "Once people taste it, the product sells itself."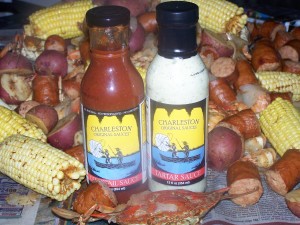 Meanwhile, the Rheas are concentrating on expanding their reach along the Carolina coast and producing a Lowcountry cookbook. Mary Caroline cited the importance of adding hot sauce to their lineup.
"The hot sauce opened new doors for us because we are selling it to restaurants," she said, pointing out that their label already adorns the tables at 15 local eateries.
The cookbook, which will be illustrated by local artist Clay Rice and is expected to be published by the end of 2011, will combine Mary Caroline's talents as a writer, a trainer and a Lowcountry cook.
"We wanted to put out a cookbook that was a little more in today's world as far as nutrition goes, but the recipes will still have that Lowcountry flair," she commented.
Despite her duties with Charleston Original Sauces and as the mother of eight, Mary Caroline continues to train and write part-time. She recently came out with her second book, "Lose Weight, Feel Great! – Even With Kids." Her first published work was "Managing Life With Kids" in 2007.
In addition to illustrating the upcoming cookbook, Rice designed the company's logo and label.
"With his ties to the Lowcountry and our ties to the Lowcountry, it was the perfect match," Mary Caroline said. " Clay hit it perfectly. It was exactly what we wanted."
With a logo, a label, a website, a vision and a dedicated staff, the Rhea family might just be on its way to national recognition in the world of condiments.
"We're excited, but, with eight children and a tight budget, we haven't had a large marketing effort. But we're getting the word out," she said.