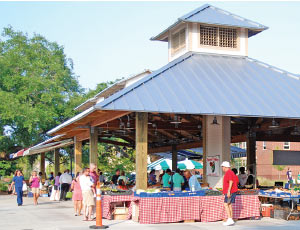 The atmosphere is festive, a cross between a country marketplace, a state fair and a small-town carnival, complete with funnel cakes, the peanut man and the come-hither aroma emanating from the Kettle Korn machine. Zeus, with its Greek gyros, the French crepe stand and Rio's raviolis, officially Rio Bertolini's Fresh Pasta Co., add an international element to the Mount Pleasant Farmers' Market, a Tuesday tradition adjacent to Moultrie Middle School on Coleman Boulevard.
A musician strums and sings "Blowin' in the Wind" as a stream of kids, bicyclists and dogs on leashes passes by and Mount Pleasant residents greet their neighbors at the market, which opens at 3:30 p.m. from April through October.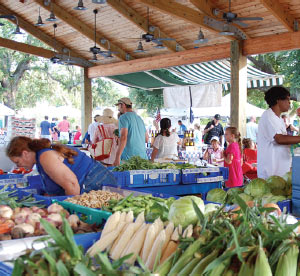 Mount Pleasant Seafood Co., family-owned and located on Shem Creek since 1945, was among the first vendors at the Farmers' Market 12 years ago. Rial M. Fitch Jr. works the market with his daughter Sarah and his son Rial. He offers a wide assortment of fish, from sea bass to salmon to red snapper, but market-goers who come to eat dinner come for his shrimp. He serves them up, along with homemade cocktail sauce, for only $2.
The Johnson family is seated at a picnic table – Stewart, wife Paula, Martha and her sister, Helen Lowry, who boasts that she was the first resident at The Ponds retirement community in 1985. They're eating boiled shrimp with sides from John G's, which is how locals refer to Charleston Bay Gourmet Catering because it is owned by John G. Thornhill. According to his son Chris, the company has expanded its offerings beyond barbecued chickens and pulled pork. Their top sellers now are barbecue and St. Louis-style ribs. All dinners come with two sides; the choices include squash casserole, shucked-corn salad and baked beans.
Boone Hall Farms, the agricultural arm of Boone Hall Plantation, is recognized by its red tablecloths. The produce, from succulent strawberries to plump red tomatoes, is always in demand.
Marty Belk, of Carolina One on the Isle of Palms, who carefully selected a perfect tomato, said she and her husband, Don, make the Tuesday market a weekly affair. They always stay for supper.
"We keep thinking that we are going to change, but Don simply must have supper at John G's," she explained.
Nearby is Mike Shaughnessy, owner of Mike's Peanuts, with his old-time rig for boiling and deep-frying peanuts. He represents a dying breed on the Carolina landscape, even though boiled peanuts are the official state snack. His calling card boasts that he sells a "Certified SC Product."
The Great Harvest Bread Co., known for its catchy slogan, "Baking a Difference in Mount Pleasant," is a hit with its creative whole grain breads, many of which, like apple crunch, sound more like dessert.
Ashley Swider, the owner of Yes You May Cookies, shares space both at the market and at her kitchen on Coleman Boulevard with Romeo Organic Baby Foods. Both products will soon be available at Whole Foods.
Mepkin Abbey's fresh gourmet mushrooms can often be found at the market, and the dried version is always available. Up from Gardens Corner, S.C., Les Lambert, owner of Great Food Co-op, is surrounded by his preserves and relishes, his fruit-flavored ciders and dried fruits. He explains his wares to Tabi Jaglowicz, director of marketing for Island Realty, who listens intently and then buys a bagful.
The farmers of Johns Island round out the market offerings with stalls of freshly harvested produce: tomatoes, corn, yellow squash, watermelon, cantaloupe and more. Joseph Fields Farm and Freeman Farms are among the most well-known entities.
To see additional photos from the Farmers' Market, visit the Web Extras page. For a complete list of vendors, visit www.townofmountpleasant.com.