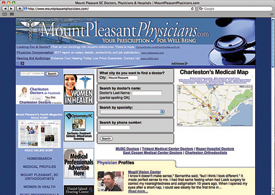 The Charleston area in general and Mount Pleasant in particular are drawing interest from people across the United States, those who already are planning to move to the Lowcountry to take a new job or to retire and those who are still thinking about relocating to a region that offers magnificent weather, a beautiful coastline, year-round outdoor activities and a wide array of educational and entertainment opportunities.
Regardless of why people from all 50 states and the District of Columbia are at least considering a move to the Lowcountry, they have access to a research tool that can help them complete one of the most important tasks related to relocating to a new town: finding a nearby doctor who has the expertise and experience to meet their family's medical needs. MountPleasantPhysicians.com is a free Internet service that offers information about every physician in the Mount Pleasant area.
Surfers have viewed tens of thousands of pages during the website's first year-and-a-half in existence, and multiple visits have come from residents of every state and Washington, D.C. According to Google Analytics, more than 15 percent of the people who see the site once return for another look.
"There's no other local website where a current or future resident of the town can locate all the doctors in the area," said Bill Macchio, publisher at Media Services (also publishers of Mount Pleasant Magazine), which launched and maintains MountPleasantPhysicians.com. "The only place that comes close would be a local hospital, and they only promote doctors who practice at their hospital. Our data reflects all doctors in Mount Pleasant, no matter where they practice."
"A lot of people are moving to Charleston and Mount Pleasant and they want to find out about medical care," Macchio added.
People who visit MountPleasantPhysicians.com can search for a doctor by location, specialty, address or phone number.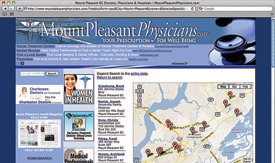 They can review lists of doctors who have privileges at all area hospitals, including East Cooper Medical Center, Roper St. Francis Healthcare, Trident Medical Center and the Medical University of South Carolina. A map will show them where the doctors' offices are in relation to where they are considering buying or renting. In addition, the site includes profiles of area physicians.
The website offers visitors the opportunity to read HealthLinks, Media Services' health-related magazine, online or to order a free hard copy of Hot Retirement Towns, another Media Services publication. The site also includes information on a wide range of health-related topics, including women in health, local orthodontists and dentists, the flu, fitness clubs and spas, local hospitals, urgent care and neighborhoods that are near hospitals.
Media Services has launched other websites that offer similar information, including CharlestonPhysicians.com, SummervillePhysicians.com and LowcountryHospitals.com.
"We're not affiliated with any hospital, insurance or doctors' group," Macchio explained. "We're independent. It's free to the public, and it's also a great way for doctors and hospitals to reach potential customers."