Thomas C. Cario Middle School Principal Benjamin Bragg isn't interested in helping some of his students bridge the gap between elementary school and high school. His goal is to make sure each one of them gains the knowledge, confidence and experience to excel in the ninth grade and beyond.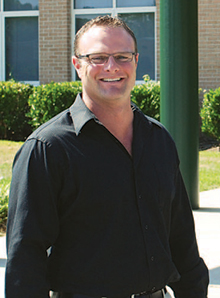 "We believe every kid can be successful," said Bragg, who took the principal's job at Cario in August 2010, after five years in the same position at St. Andrew's Middle School in West Ashley. "Middle school is the best time to reach children socially and emotionally. You can be a determining factor in their lives."
To help prepare students for academic success, the school offers high school classes in subjects including Spanish, algebra and pre-engineering. Each student completes an entrance assessment in math and English, "to see where they need assistance and where they need to be challenged," according to Bragg, a 2011 finalist in the statewide Middle School Principal of the Year competition.
Academic excellence is only part of the story. The school's band, orchestra, chorus and Art Department all have claimed statewide honors.
Bragg attributes much of the school's success to his staff of 72 dedicated teachers and a heavy dose of parent involvement. Cario moms and dads work the front desk, make copies, help monitor the lunchroom, serve as volunteer athletic coaches and participate in fundraising activities. In August 2011, they will start helping with an after-school tutoring program.
The business community also plays a role in preparing Cario students for the future. More than 50 companies took part in the school's career day, and some students shadowed local entrepreneurs at their businesses. Local leaders also are involved with forming a foundation to raise funds for staff, supplies and maintenance at Cario and the other two schools in the Park West community – Pinckney Elementary and Laurel Hill Primary School.
With 1,400 students, Cario is the third largest school in Charleston County, trailing only Wando High School and West Ashley High School. Bragg's goal, though, has more to do with quality than quantity.
"We want to be the best middle school in the state," he said.
For more information, visit http://cario.ccsdschools.com.