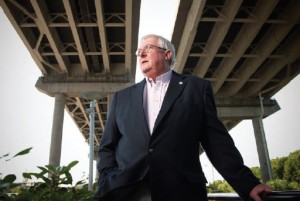 Billy Swails is the top elected official in South Carolina's fourth largest municipality, a vibrant and growing town that has attracted a wide range of cultural and culinary events and festivals, as well as the attention of the National Civic League and its coveted designation of All-America City.
Swails, mayor of Mount Pleasant since winning a three-man race among a trio of sitting town councilmen in 2009, is neither overwhelmed with the job nor overly impressed by his own importance.
"Don't call me 'Mr. Mayor.' My name is Billy," he insisted in a smooth Southern drawl perfected by a lifetime in the town he now helps run. His Lowcountry origins are depicted in the hunting and fishing prints that adorn his office at City Hall.
At 64, Swails has fond memories of the town he will always call home, which, a half century ago, was no more than a dot on the map, a brief rest stop for motorists headed north to Myrtle Beach or south to Charleston and beyond.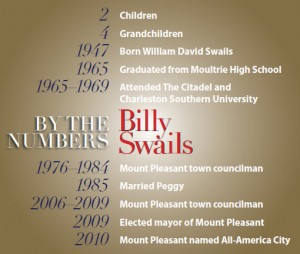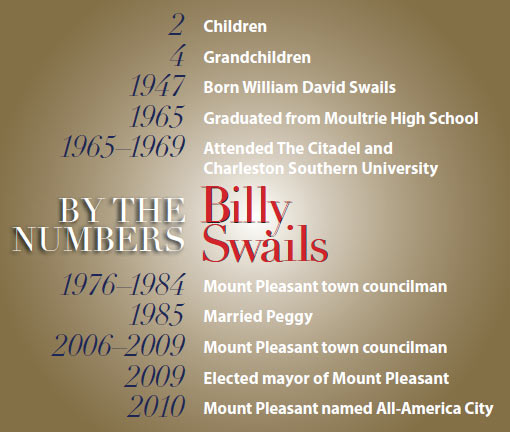 "In 1960, there was one red light on Highway 17, which was called Ocean Highway," he remembered. "Tourists stopped here, mainly to gas up on the way to Myrtle Beach and the land of oranges. I pumped gas. The Colonial Store [then on the corner of Coleman Boulevard and Fairmont Avenue in the current GDC Home Interiors location] was the largest grocery store. I bagged groceries and at night swept and mopped the floor. I was never scared of hard work."
The town of Mount Pleasant has grown exponentially during the past half century, from 5,116 residents in 1960 to 67,843 in 2010, but Swails' attitude toward the value of hard work hasn't changed a bit. Though he puts in full-time hours as mayor, the position, and the $24,000 per year salary, are officially part- time. His real job, the one that pays the bills, is as a State Farm insurance agent.
Over the years, Swails, who graduated from Moultrie High School and attended The Citadel and Charleston Southern Univer- sity, has always found the time to serve his town and its residents. He was a councilman from 1976 to 1984, then again from 2006 until he won the mayoral election,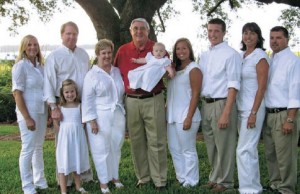 and he has coached and sponsored youth football, baseball, basketball, soccer and volleyball teams for more than 30 years.
"No public service could be more rewarding or pay higher dividends," he remarked.
The national recognition the town earned last year must have come close, however. Swails was among 41 Mount Pleasant residents who traveled to Kansas City, Mo., to convince the judges that their town deserved to be a 2010 All-America City. Their efforts were rewarded.
"It was quite a thrill, I'll tell you," Swails said. "When I was first elected, I said let's go for it. We raised $18,000 and put together a 10-min – ute dog and pony show. We chose three projects: the $5 swimming lessons for kids, the revitalization of Coleman Boulevard and the construction on Johnnie Dodds Boulevard."
Part of the money the town raised to compete for All-America City honors came from what should have been the mayor's modest salary. Practicing what he preaches about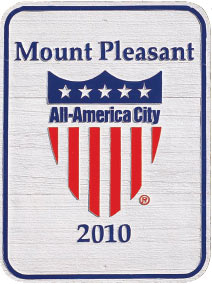 public service, Swails accepts none of his $24,000 annual pay, choosing instead to let the town spend it on projects that make life a little more interesting for those who call Mount Pleasant home.
The list of things to do in Mount Pleasant certainly has grown since Swails' days of pumping gas and mopping floors in a sleepy little town between Charleston and the Atlantic Ocean. Annual events include the Scottish Games and Highland Gathering held each September, the Taste of Charleston in October, the Lowcountry Oyster Festival in January, the Blessing of the Fleet each April and the Sweetgrass Cultural Arts Festival in June.
The town's farmers' market has gained fame as a weekly extravaganza from April through October; it is held each Tuesday from 3:30 p.m. until dark at the Mount Pleasant Farmers Market Pavilion on Coleman Boulevard. April also heralds the summer-long Shaggin' on the Cooper dance par ties on Saturday nights, family-oriented
Splash Days, Movies at the Mount Pleasant Pier and Party in the Park free concerts, all taking place at the beautiful facilities of the ne w Memorial Waterfront Park.
And, of course, there's the Cooper River Bridge Run, which begins in Mount Pleasant, ends in Charleston and draws more than 40,000 runners from around the world. Marking its 35th year with the April 2012 event, the run is a unique opportunity to showcase Mount Pleasant's attractions, from picturesque Shem Creek to Patriots Point Naval & Maritime Museum to Memorial Waterfront Park.
"The town is moving forward. It's not backing up."
Under the leadership of Billy Swails, the town of Mount Pleasant, though it treasures its small-town past, also savors what is to come and is solidifying its infrastructure and road system, building a bridge to what is certain to be a bright future.
"The town is moving forward," the mayor commented. "It's not backing up."