Remember when you were little and believed that big, white birds delivered babies in pastel pink and blue bundles? Now you know that wasn't so, but storks can bring pleasant surprises for the families of newborn babies – at least in Mount Pleasant.
Each year, East Cooper Medical Center and Roper St. Francis Mount Pleasant Hospital welcome hundreds of babies to the Lowcountry. Mount Pleasant Magazine is about to celebrate the first of these blessed events.
In our spring edition, we will introduce you to Mount Pleasant's New Year's baby – the first person born here in January 2012. Will he squirm at Roper St. Francis Mount Pleasant Hospital? Will she belt out her first wail at East Cooper Medical Center?
The winning family will receive the Mount Pleasant Magazine first baby stork basket. Thanks to local businesses, the new baby and family will land supplies such as diapers, bibs and toys, as well as gift certificates for baby furniture, clothes and formula, a free photo session and even cash for future college costs.
Let the fun and competition begin!
East Cooper Medical Center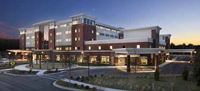 Mid-morning on New Year's Day 2011, Karen Stasio realized life was about to change in a huge way. Labor had begun – sooner than expected.
"I was due Jan. 12, so it was a little earlier than we planned," Stasio remembered. "It was my first pregnancy so I didn't know what to expect."
Contractions became stronger. She and her husband, Douglas, headed to East Cooper Medical Center.
Progress was slow, but, after pushing for nine hours, Ava Madison Stasio finally arrived. She appeared at 10:23 p.m., weighing 6 pounds, 13 ounces. Seeing the healthy baby for the first time was thrilling.
"She was perfect," Stasio beamed.
Ava also was East Cooper Medical Center's New Year's baby, and Stasio recalled that even her doctor was excited.
Stasio had high regard for the hospital staff, many of whom she knew before Ava was born because she attended birthing and breastfeeding classes.
"Everybody at the hospital was wonderful," said Stasio. "Overall, it was probably one of the most unforgettable moments of our lives. All the pain, the yucky parts of labor and pregnancy are forgotten, because all the good things have taken over. The joy just takes over."
Looking back at Jan. 1, she expected more fanfare after delivering a baby on New Year's Day. She believes Mount Pleasant Magazine's first baby stork basket will be a big deal for the town's first baby of 2012.
"I think that's awesome," said Stasio. A few weeks after Ava's arrival, Kristi and Chris Patrick welcomed a child at East Cooper – for the third time. Khloe Georgeanna Patrick ar rived on Jan. 24, 2011, at 7:47 a.m., weighing in at 8 pounds, 9 ounces. Like big brother Seth Christopher, 5, and big sister Kalli Victoria, 4, Khloe was born via Caesarean section.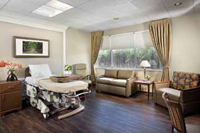 Mom remembered that her new little one was an instant blessing.
"She was actually awesome," Patrick said. "She was quiet and good and sweet."
"It was a great experience. They made me feel comfortable," Patrick said of the staff. "The doctors are very nice and kept me calm."
She added that the staff stepped up when trouble arose. Before her pregnancy with Seth, Davis suffered an ectopic pregnancy, a potentially fatal scenario. She began bleeding internally and passed out.
"I came to and they had basically saved my life," she said.
Then when she was carrying Seth, something went wrong, ironically, during a birthing class.
"I actually went into pre term later with him," Patrick explained.
Doctors and nurses rushed to her aid, hooked up monitors and prescribed bed rest.
Khloe was the first Patrick child born at East Cooper's new facility, which opened in April 2010. Patrick said she enjoyed the newness discharged from the hospital. of the facility and thought The hospital partners with staffing was superb.
"I have full faith in their staff and their abilities," she said.
She is excited to see who the first Mount Pleasant baby of 2012 will be.
"I think that's awesome. I think you might have some ladies doing some walks on New Year's Eve trying to bring on labor," she commented.
East Cooper Medical Center prides itself on being what it calls "the baby hospital." Lisa Pinion, director of women's services, maintains that outstanding physicians and nurses, along with a culture of hospitality, have created a name for the hospital's maternity services.
"The team at East Cooper Medical Center is honored by its reputation and has made a serious commitment to offering maternity services that exceed expectations," said Pinion.
The hospital features a Level II neonatal nursery – providing lifesaving care for late-preterm infants or those with medical complications – that operates with the understanding that these babies need a special place and unique care to help them grow, heal and feel loved. The Rest Easy program enables mom and dad to stay close to their infant – even after mom has been discharged from the hospital.
The hospital partners with the Medical University of South Carolina to staff itself with board-certified MUSC-affiliated neonatologists. East Cooper maintains that it provides the highest level of neonatal care in Mount Pleasant.
In addition, East Cooper Medical Center offers lactation consultants, pharmacists and specialized dietitians to help with the nutritional needs of babies and their mothers.
But will it claim the distinction of welcoming Mount Pleasant's New Year's baby?
"Yes, I think we will win, given the number of babies born each year at East Cooper – about 1,600 annually – and the number of physicians who deliver here," said Kari Davis, director of marketing and physician relations. "My bet is on East Cooper Medical Center."
Roper St. Francis Mount Pleasant Hospital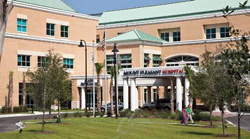 Roy and Dulcilene Wint were already raising a teenager and a toddler. As their youngest one continued to grow up, they considered adding a little brother or sister to the clan.
"Let's try one more time," Dulci recalled saying.
Trying took about a year. After many frustrating months, Dulci discovered the good news. "I was so happy," she remembered. "When it finally happened, I was really, really happy."
"I was excited. We'd been trying for a year," Roy added. "When we found out it was a girl, I was excited."
Roy is a stepfather to Yasmine, now 16. Together, Roy and Dulci had Daniel, now 4.
Late at night on Jan. 2, 2011, Dulci began to feel some cramping. She decided to let Roy sleep as she packed their bags.
"Time goes by. It's 12:30 and I realized my contractions were getting worse," she said.
By 2 a.m., with the pain "almost unbearable," Dulci decided to wake Roy. Around 4 a.m., the couple left for Roper St. Francis Mount Pleasant Hospital. By 7:31 a.m. on Jan. 3, Isabelle had arrived – at 7 pounds, 4 ounces. She quickly grabbed her parents' hearts.
"She was a very easy baby, a very sweet baby. She smiles all the time," Dulci gushed.
"If you make eye contact with Isabelle, she's going to smile," said Roy.
The Wints praised the Roper St. Francis Mount Pleasant staff for a wonderful experience.
"I was very pleased with the whole process, from the time I got there to the time I left the hospital," said Dulci.
She recalled a kind nurse, Michelle, who helped her each step of the way. Dulci even loved the food.
"I felt like I was in a hotel, to be honest," she said.
Because Isabelle was Roper St. Francis Mount Pleasant's first baby of the year, the staff sent her home with extra goodies. Dulci believes Mount Pleasant Magazine's first baby stork basket will be special for one Mount Pleasant family.
Roper St. Francis Healthcare, with established hospitals in downtown Charleston and West Ashley, moved into the baby-welcoming business in Mount Pleasant in November 2010.
"Roper St. Francis felt it was important to establish a strongerpresence in the East Cooper area to better serve the health care needs of our established patient base, as well as expand our patient base through population growth," said Hospital CEO John Sullivan.
The hospital, located at 3500 Highway 17 North, houses a mother and baby unit that includes seven birthing rooms, two C-section rooms and 10 postpartum rooms.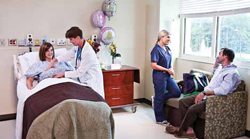 "Each (birthing) room is furnished with birthing beds, rocking chairs, a flat screen TV, sleep chairs and maternal and infant monitoring equipment," explained Happy Everett, clinical manager, labor and delivery. "The postpartum rooms are designed to help you rest and bond with your new infant. The nursery is equipped with 12 bassinets and advanced technology to care for our most delicate babies, including neonatology support 24/7 in the event babies require extra care."
The campus offers several classes for expectant families, including childbirth preparation, infant CPR, breastfeeding, babysitting preparation and baby care. In addition, there is a post-delivery breastfeeding support group and a full-time lactation consultant.
The hospital offers a treat for new moms who might need a little pampering after they give birth. Women choose from three gifts: a waffle knit robe with terry lining, a 30-minute massage with an aroma scalp treatment or a 30-minute massage with a paraffin hand or foot treatment.
Roper St. Francis Mount Pleasant Hospital expects to deliver about 400 babies in 2012. Sullivan looks forward to the competition to deliver the first baby of the year.
"It's fun and we welcome it," Sullivan said. "Competition makes everybody better, and the patient wins."
And the Winner is…
In early January, we will post the winner of Mount Pleasant Magazine's first baby stork basket on www.MountPleasantMagazine.com and www.Facebook.com/ MountPleasantMagazine. For more on the new little one and his or her family, pick up a copy of our spring issue, available in February 2012.