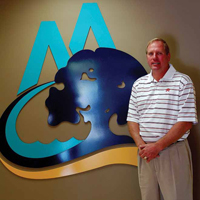 Serving as an elected official in a small town can be a rewarding endeavor or a frustrating attempt to balance the needs of your constituents with those of your family and your profession. Taking the oath of office in one of the fastest-growing municipalities in South Carolina might go a long way toward extinguishing the fire that drew you to public service in the first place.
After two separate stints on the Town Council during Mount Pleasant's meteoric rise in population from under 40,000 to nearly 70,000 in 15 years, Paul Gawrych has chosen to end, or at least interrupt, his political career. He said he agonized over the decision before opting not to compete with nine candidates seeking four seats on the Council in the November 2011 election.
"Will I miss it?" he mused. "We'll find out. Right now I want to focus on family and business, but that door is wide open. After all these years, we'll find out how I'm going to deal with it."
Gawrych, who served with three different mayors during Mount Pleasant's ascent from a sleepy suburb to the fourth largest municipality in South Carolina, entered the world of politics as a feisty 32-year-old, claiming a vacated seat on the Council in a special election in December 1995. Controversy and a battle over how Mount Pleasant would face the future awaited him.
Real estate developers wanted to turn a tract of wilderness along Highway 17 into an upscale community of luxury homes, shops and restaurants. Some people thought it was a good idea; others felt Mount Pleasant wasn't ready for a town within a town. The decision of whether to rezone the area was left to the Town Council.
Despite Gawrych's vote for rezoning, the effort failed by a 5-4 margin. However, a year later a modified plan was approved. Those who opposed developing the land that would eventually become I'On Village vowed to remove Gawrych from the Council. They made good on their promise in the 1998 elections; needing to finish in the top four to retain his seat, Gawrych came in fifth.
"I learned a lot," he commented. "It stung a little bit. Special interest groups could make a big difference in an election back then. A thousand votes got you in."
Gawrych, a 1985 graduate of The Citadel who has lived in Mount Pleasant most of his life, was working for Fenn- Vac in the environmental emergency response business during his initial term. By the time the 2002 elections rolled around, he was with Banks Construction Company, and he was ready to stoke the fire that drew him to politics in the first place. With 15 people seeking four seats, the race, in Gawrych's estimation, was "nasty."
"I worked like I never worked before," he commented. "I've always felt a calling to serve. I love this community. It's about Mount Pleasant. Don't ever make it about you. If you do, you shouldn't serve as a public official."
Gawrych was re-elected in 2006, winning a four-year term that stretched to five years when the town changed its election schedule. In November 2009, he was chosen as mayor pro tem by his fellow Council members; he presides over Council meetings and handles other duties when the mayor is absent or can't assume his regular duties.
Gawrych pointed out that most of the Town Council's work is done at committee meetings, which are open to the public and where three or four members hash out ideas and prepare recommendations for the full Council. Gawrych currently chairs the Economic Development Committee and serves on the Finance; Planning and Development; Police, Legal and Judicial; and Transportation committees.
In September 2011, he earned the South Carolina Recreation and Parks Association Local Government Official Award. Gawrych, who also chairs the Mount Pleasant Council's Recreation Committee, was cited for his support for a wide range of recreation- related projects, including Memorial Waterfront Park; Shem Creek Park; and the Blanchard/ Morrow Recreation Volunteer Wall of Honor.
Gawrych credits Mount Pleasant's three most recent mayors with playing key roles in the town's growth. He said Cheryll Woods-Flowers, who served as the town's top official from 1992 to 2000, "was the right mayor at the right time."
"She grew up here and cared deeply about Mount Pleasant, and she had a lot of fire. She spent so much time fighting for the Ravenel Bridge. She gets the credit for doing all the leg work up front," he commented.
He added that Harry Hallman, who held the job from 2000 until he retired in 2009, provided the town with a statewide perspective because of his tenure in the South Carolina House of Representatives.
"Harry could reach out to Columbia and to Washington for help with our infrastructure, and he deeply cared for this town," Gawrych said.
He added that current Mayor Billy Swails has "an unmatched love for this community."
"He is gifted in bringing people together, and you always know where he stands," Gawrych said.
"There's no hot air. He works fulltime, but he doesn't take a salary. His dedication is very moving."
"We should be thankful for allthree mayors," he added. "We've bumped heads from time to time, but then we moved on to the next item. We always kept our eye on the prize, and the prize is Mount Pleasant."
Gawrych, who started his own business in 2004, does not rule out a return to Mount Pleasant politics. For now, he prefers to spend his time growing Asphalt Concepts, a company that specializes in downtown revitalizations, streetscapes and traffic calming, and enjoying his family – wife Zoe, daughter Sophie, a junior at Wando High School, and son Scott, a sophomore at the University of South Carolina.
"Maybe it's time to take a break," he commented. "But the future is wide open. If this break does what the last one did, you'll definitely see me again."
By Brian Sherman