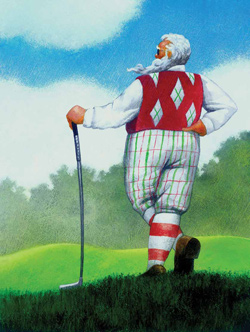 With Christmas looming on the horizon, I woke up one day with visions of sugarplums dancing in my head. That seemed odd because I have no idea what a sugarplum is.
But that vision gave me an idea. Everyone knows who Santa Claus is, but no one has ever interviewed him. So I dialed North Pole information and asked for his telephone number. Amazingly, he had a listed number – and it was toll free. On the downside, all I got was his answering machine. I left a message saying I was writing an article for Mount Pleasant Magazine and left my number.
I figured that was the end of that, but, lo and behold, my phone later rang and he was on the line.
I said, "Thank you, Santa – may I call you Santa?"
He said, "Call me whatever you want. Over the centuries, I've been known as Father Christmas, Kris Kringle and who knows what else. Just don't call me late for dinner."
I must have paused because he added, "That's a joke, son."
We laughed like old pals, so I continued with the interview. First I asked him about his outfit: bushy beard; bright red clothes; boots; black belt.
"Marketing," he snorted. "I'd been around forever, but, in the 1930s, Coca-Cola started using my image in that outfit. Can you believe it? I never got a commission or an endorsement deal or even a thank you. I'm still pretty ticked off. To tell you the truth, I prefer a running suit, high-top sneakers and a parka for the colder climates."
Sensing a segue, I asked, "You've been around the world more times than the space shuttle astronauts. What are some of your most favorite and least favorite stops?"
Santa sighed and admitted that everywhere he goes he's welcomed, but some stops are not as desirable as others.
"Do you remember how kids used to put out a glass of milk and some cookies for me? That's how I put on this weight. Things have changed. When I come down the chimney in North Korea, if they have one, they've left me a bowl of kimchi. Have you ever tasted that stuff? Yuck!
"Several times in Finland, I've been left a plate of reindeer meat. What are they thinking? Reindeer are my pets, friends and sleigh pullers. Sometimes I feel like leaving a note: 'No more treats!'"
Trying to change the subject, I asked what stops he always enjoys.
"Mount Pleasant," he replied with a chuckle. "That's why I called you back so quickly."
"And why Mount Pleasant," I asked?
"Well, they don't call it Mount Unpleasant, do they?"
Santa explained that the people of Mount Pleasant are articulate, sophisticated, generous and refined.
"No one ever begs me for anything. I have to rack my brain to find appropriate presents I can drop off," he said.
Santa went on to tell me that many times he has climbed down a chimney in the Old Village or Snee Farm and found a plate of beluga caviar, some nice crackers and a flute of champagne awaiting him.
"Now that's livin' large," he added.
I asked what's in store for his future, and again he sighed.
"I think the elves are up to speed on Christmas to the point where I can take a little time off," he said.
"So where might you vacation?" I ventured. Santa's voice dropped to a whisper.
"This is between you and me," he said. "Mount Pleasant, South Carolina. I figure without the red suit, people won't recognize me. If they spot the beard, I can get by telling them I'm one of the guys from ZZ Top.
"I can visit the Yorktown and Patriots Point, have some shrimp and grits at Shem Creek, sneak in a round of golf at Charleston National and maybe go over to Isle of Palms to take a dip in the ocean and work on my tan."
Who would have thought that Mount Pleasant would be Santa's ideal getaway spot? I thanked him for his time, and, before we said goodbye, he asked, "And what do you want for Christmas?"
I didn't have to think before I answered: "You just gave it to me."
By Bill Farley
Original Art by Art Valero