George Washington ate here.
"I must apologize for asking you to call at a place so indifferently furnished and where your fare will be entirely that of a farm," wrote Charles Pinckney in his 1791 invitation to the president.
Washington stopped at Pinckney's farm during his tour of the South, before continuing to Charleston, where he met with the proprietor – a man he knew as a former delegate to the Continential Congress, a fellow member of the Constitutional Convention and the governor of South Carolina.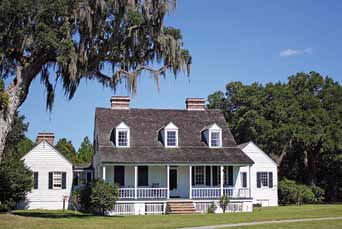 What remains of that 715-acre property is the Charles Pinckney National Historic Site. Created in 1988, it is the only site in the National Park System previously owned by a signer of the Constitution. While other signers might be more familiar, Pinckney, sometimes referred to as "the forgotten founder," played an important role at the 1787 Constitutional Convention.
In 1784, at only 26 years of age, Pinckney was a South Carolina delegate to the Continental Congress. Three years later, after advocating for a general convention to address weaknesses in the Articles of Confederation, he arrived in Philadelphia as part of the South Carolina delegation with his cousin Charles Cotesworth Pinckney, Pierce Butler and John Rutledge.
Charles Pinckney was a strong advocate for a central government, separation of powers and protecting property interests. His draft of the Constitution contained more than 30 provisions that were included in the final document. Upon his return to South Carolina, he worked diligently to get the state to ratify the new Constitution, then served as president of the South Carolina State Constitutional Convention.
Pinckney's primary residence was in Charleston, but he maintained seven plantations, including "the farm." Snee Farm, known as Pinckney's favorite country estate, was originally part of a 1698 grant to Richard Butler. Pinckney's father purchased it in 1754, and it remained in the family until 1817.
Snee Farm was a typical Lowcountry plantation. In addition to produce grown and animals raised to supply the family's homes, cash crops of rice and indigo were planted. Later, cotton replaced rice as the principal crop. After Pinckney sold it, Snee Farm remained a working farm well into the 20th century.
Since 1997, the National Park Service and the U.S. Citizenship and Immigration Services have united to hold the swearing-in ceremony for America's newest citizens at the site. The naturalization ceremony has even more significance because it takes place on 28 acres once owned by one of our country's founding fathers.
"This is a most appropriate site to welcome new citizens into this country and to reflect on the meaning and responsibilities of citizenship," said Tim Stone, superintendent at Fort Sumter National Monument. He also oversees the Fort Moultrie and Charles Pinckney sites.
Other programmed events held throughout the year include archeological digs, school group tours and living history programs. On living history weekends, volunteers demonstrate some of the skills from the Pinckney period, such as brick masonry, iron smithery, rice pounding, yarn spinning, indigo dyeing and African drumming.
Now, don't ya'll go all at once.
The Charles Pinckney National Historic Site is located at 1254 Long Point Rd. For more information, visit www.nps.gov/chpi.