In 2010, a billboard on Highway 17 South in Charleston featured Bobby Flay, the Food Network's grill king. A year later, another celebrity chef, Sara Moulton, was spotted walking down East Bay Street after a celebratory brunch at High Cotton. And longtime Mayor Joe Riley took a stab at culinary immortality at the 2011 Charleston Wine + Food Festival, donning a chef's jacket and competing alongside Bryan Voltaggio of Bravo's "Top Chef " against local chefs such as Marc Collins of Circa 1886.
Charleston has become a restaurant destination.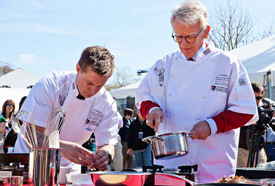 A sign of the importance of Charleston in the world of fine dining is that in 2010, Forbes called the festival one of the top five of its kind in the nation. The following year, attendance was up at nearly every event, from the restaurant dine-arounds to the gospel brunch to the main attraction, the Culinary Village. The festival has made remarkable progress, according to Rick Widman, who serves as its chair.
"The exposure it brings to our city is a major factor in Charleston's enviable reputation as a gastronomic destination," said Widman, who also is president of Charming Inns, owner of the Wentworth Mansion and co-owner of the adjacent restaurant, Circa 1886. "The event is about showcasing our chefs and learning from the influx of celebrity chefs and chefs from top restaurants in major cities."
"Another factor that has led to our high-profile position is the success of Charleston's chefs in winning the James Beard Foundation Award for Best Chef in the Southeast," he added. "Some 10 years ago, architecture, art and history were the top reasons people came here. Now food is tied for number one and two."
For food lovers, the festival offers a good time and good value. They can purchase a pass to the Culinary Village and spend the day on the festival grounds at Marion Square, including up to four hours of sampling food and tasting wine in the Grand Tasting Tent. They can continue the experience by taking in cooking demonstrations and competitions in the SCE&G kitchen, sampling in the grilling area, sipping wine at the BB&T hospitality tent and attending book and wine bottle signings. A highlight of the day is the Charleston Chop Battle, a timed cook-off among six of the top chefs in the Lowcountry.
Few Charleston chefs have received as much ink in recent years as Sean Brock, executive chef at McCrady's and now Husk as well. His post-modern cuisine has attracted attention nationwide. For example, a New York Times article commended this son of Dixie for his dedication to using only local and Southern ingredients at Husk and for his small experimental farm in nearby McClellanville.
Nathan Richard is the pastry chef at Husk, and everything he creates is a Mardi Gras for the mouth. If you believe like kids do that dessert is the best part of a meal, prepare to be childlike at Husk. For instance, the pecan pie, with perfect crust and filling, is a variation on his grandmother's recipe. If you prefer this Southern favorite with just a hint of chocolate and liquor, this is the place to be. However, rather than bourbon, the whipped cream gets a hit of Herbsaint, the brand name of an anise-flavored liquor similar to absinthe.
Richard (French pronunciation: Ree-chard) has created a process for smoking ice cream. If you are lucky enough to try it, pecan-woodsmoked ice cream will become embedded in your culinary memory bank, and the stack of pecan wood at the front entrance will take on a whole new meaning for you. For those with a Krispy Kreme glazed-donut habit, the takeoff on it at Husk will have you closing your eyes and swearing you are sitting at a Formica counter.
Richard is a talented chef who had an enviable job in a top shop in a major culinary destination (Commander's Palace in New Orleans) for six years. He grew up in Thibodaux, along the bayous of south Louisiana, and is part of a new wave of chefs who have found Charleston. When asked why he moved to the Holy City, he replied: "I fell in love with this city. It is a great foodie town, with chefs doing really cool stuff. In New Orleans, you were only allowed to be just so independent, as the tourists coming in expected pecan-encrusted fish, barbecued shrimp, bread pudding and soufflés. Don't get me wrong: I think Cajun and Creole cooking are among the best, but this was a new challenge. At Husk, we source everything not only from the South but as much locally as we can. We found salt and paprika smoked in bourbon barrels in Kentucky and olive oil being made in Texas. Who knew?"
Next to the cord of wood out front, there is a wall-high chalkboard listing the products and the farms and states each day's ingredients come from, right down to the pigs' ears.
Charleston's Dining Scene Recognized Nationwide
The big buzz in culinary circles is that for three consecutive years, Charleston chefs won the coveted "Best Chef in the Southeast" title given by the revered James Beard Foundation. Sean Brock, executive chef at McCrady's and Husk, won in 2010, while Mike Lata, chef at FIG, took honors in 2009. Robert Stehling, chef at Hominy Grill, was the 2008 winner.
Sam Sifton wrote in the Feb. 8, 2011, issue of The New York Times: "Charleston is one of the great eating towns in the American South." He lauded Brock's Southern-spiked cuisine, as well as Martha Lou Gadsden's soul food at Martha Lou's Kitchen. He mentioned several other restaurants, including Slightly North of Broad and Peninsula Grill. Charleston chefs and restaurants also have been mentioned in Southern Living. Brock has been featured twice in both the Times and Southern Living and won "Next Great Chef" honors on the Food Network. Bob Waggoner was featured in Southern Living for promoting the Lowcountry's wild shrimp industry. Travel sections on Charleston in that renowned magazine have applauded the city's dining scene, recommending such restaurants as Grill 225 and The Pavilion Bar at The Market Pavilion Hotel, Slightly North of Broad, Middleton Place and Hominy Grill.
In "Best Charleston, South Carolina, Restaurants," AOL Travel said: "The 1980s and '90s brought an influx of new Southern cuisine – chefs getting creative. A number of Charleston's best restaurants follow this model." News that Southern Living wanted in on the annual Taste of Charleston, a landmark event spanning three decades, inspired a second day of activities as well as interactive exhibits, cooking demonstrations and appearances by Southern Living editors and writers.