If you love being on the water, you'll adore the annual Charleston Harbor Fest, a family-friendly and tourist friendly celebration of all things nautical.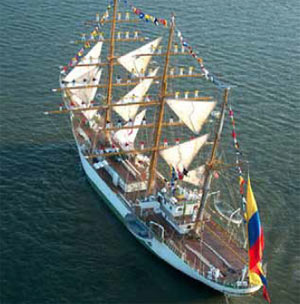 Held each spring just as the outdoor weather beckons again, Harbor Fest offers just the right balance of maritime elements, whether you like to board the tall ships – classic beauties from around the world – witness an animated sword fight between swashbuckling pirates or dance the night away to the sound of the wind in the riggings.
You'll be able to walk the piers and take in the salt air, view the maritime exhibits at the interactive education village, browse the artists' tents and point the children to the ever-popular Kid Zone, where little mariners can learn to build a model sailboat and launch it, search for buried treasure, don a pirate's hat and learn to tie nautical knots.
A tall ship is a large, traditionally rigged sailing vessel. It can be a schooner, a brigantine, a barquentine, a brig, a ketch, a sloop or a full-rigged ship, depending on the number of masts and the cut of the sail.
Visiting vessels are docked at the Maritime Center piers, and anyone who pays the price of admission has access to them.
Spirit of South Carolina, the state's tall ship, is docked and available for tours. The vessel provides educational opportunities for young people with programs that focus on the history, math, science and literature of South Carolina's water resources. These programs strive to develop personal responsibility, stewardship of the environment and a love of the sea. The ship carries its student crew on coastal and ocean voyages as they serve as goodwill ambassadors to the world for the state of South Carolina.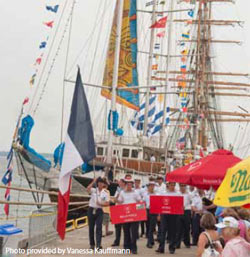 Spirit of South Carolina is owned and operated by the South Carolina Maritime Foundation. For more information, visit www.scmaritime.org.
In 2011 Harbor Fest coincided with the restart of the 5 Oceans, which is among the most challenging around-the-world solo sailing races. Charleston hosted skippers from four countries after their run from Uruguay, en route to the finish line in France. The event held special appeal for the Charleston community since local skipper Brad Van Liew was racing.
Along with listening to pirate tales, touring tall ships and learning about Charleston's maritime history, Harbor Fest participants can take to the water themselves on a catamaran cruise or just enjoy the sites, sounds and flavors of the Charleston waterfront.
To learn more about Harbor Fest, visit www.charlestonharborfest.org.