Sperry Top-Sider Charleston Race Week Creates Sailing Memories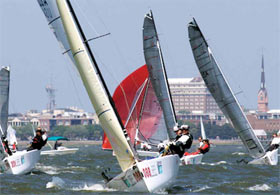 In mid-April, when traditionally Americans are racing to file their income tax returns, sailors are racing to catch the Charleston Harbor wind in what is now the largest keel board sailing regatta in the United States.
The popularity of the Sperry Top-Sider Charleston Race Week, organized by the South Carolina Maritime Foundation and the Charleston Ocean Racing Association, has continued to grow since the first event in 1996. Held at Mount Pleasant's Charleston Harbor Resort & Marina, it attracts competitors from across the country, and those who attend once usually return.
Officials counted up to 270 boats registered at the 2011 version of the annual event, from darting, 22-foot Vipers to 42-foot Beneteaus. Why do so many sailors show up for Race Week? You can start with Charleston, one of the top 10 U.S. cities, according to Condé Nast Traveler; move on to the hospitable town of Mount Pleasant; continue with the sun, temperature and wind conditions that prevail in the spring in coastal Carolina; consider the well-tuned organization of Race Week; mention the camaraderie among those returning from previous years and the Southern hospitality enjoyed by newcomers; bring up the host hotel, with one of the largest marinas in the Southeast; and finish by taking note of the serious fun quotient of the event.
Much of the fun is fueled by Gosling's, one of the corporate sponsors. Traditionally, the opening party on Thursday evening is a "Dark 'n' Stormy" night – the name of Gosling's classic drink, its Black Label rum and ginger beer. Held on the Charleston Harbor Resort & Marina's beach, with libations dispensed from tiki huts, as many as 2,000 people come out for the round of parties. The kickoff event is ignited by a rock band and the final awards ceremony late Sunday afternoon is always a "chili" night, with draft beer as the thirst quencher.
Kristen Lane, a skipper from Tiburon, Calif., looks forward to attending each year. "You just can't beat this venue," she said enthusiastically.
She's not the only sailor who loves these exciting, short courses, with big fleet races and some large, hypercompetitive classes.
"This is probably my favorite regatta, too," her husband, Peter, remarked. "Shorter courses with tides, sand bars and land features are just so much more interesting than your classic longer courses."
Charleston Race Week is typically held in mid-April, when the ideal tidal conditions give a push to sailors as they head out and return.
All profits from Race Week support educational programs aboard the Spirit of South Carolina, a traditional tall ship serving the Palmetto State's youth. In addition to Gosling's, corporate sponsors for the event are Charleston Harbor Resort & Marina and Vineyard Vines. Associate sponsors are the town of Mount Pleasant, Gill North America, Coral Reef Sailing Apparel, North Sails, Daniel Island Real Estate and Newport Shipyard.
For more information about Race Week, visit www.charlestonraceweek.com, call the South Carolina Maritime Foundation at (843) 722-1030 or visit www.scmaritime.org/