Heard of Charleston Women in Business?
In these days of "Desperate Housewives," "The Real Housewives of (insert city)" and "The Bachelor," it is hard to imagine a group of women getting together without some of them bursting into arguments, catfights and tears. However, we have just such a group here in Mount Pleasant. East Cooper Entrepreneurial Women is a cohesive, supportive and proactive group of more than 100 women working together to help each other with their businesses and help the community with their volunteerism.
Their latest community program is coming up in late February and March, so there is still time for you to get involved. Meals on Heels teams ECEW with East Cooper Meals on Wheels to help deliver more than 130,000 free meals a year to homebound seniors in the community.
ECEW will host a fundraiser Feb. 23, with a goal of collecting $10,000 to support East Cooper Meals on Wheels. The event, scheduled for the Liberty Tap Room, will include complimentary food and wine, as well as a presentation about Meals on Heels. Tickets are $15 in advance on the ECEW website and $20 at the door.
On March 13, members of ECEW will don their red heels to deliver meals themselves and then present the fundraising check to Meals on Wheels.
"Being on the ground delivering meals to the seniors ourselves really puts a face to the people we are helping with the fundraiser, and it's incredibly rewarding," said Phyllis Sheffer, ECEW president emeritus and chair of the Meals on Heels project.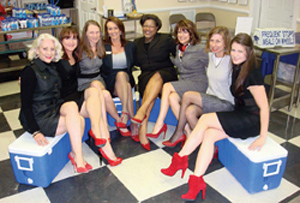 Potential members of East Cooper Entrepreneurial Women can wade into the association slowly or jump in with both heels – the choice is theirs. Non-members are welcome to attend meetings, and they won't be pressured to join.
"Our monthly happy hours are open to all women – and men – East of the Cooper who are interested in learning more about what we do and meeting some of our members. This is a good way to get to know us. But, fair warning, our members are delightful and it's hard to resist wanting to be involved once you meet them," said Angela Grazaitis, ECEW's events coordinator.
Happy hours are held at various locations throughout the East Cooper area, so there is sure to be one near your neighborhood. Businesses are encouraged to sponsor a happy hour so they can meet the members and provide them with materials about what they can offer these dynamic businesswomen.
Coffee Connection is another way to learn about the organization. Held three times per month at various locations, coffee meetings are informal gatherings, but attendees may present a short infomercial about their business or their latest project. Non-members may attend for one month at no cost.
Monthly lunch-and-learn sessions are held at Water's Edge Restaurant on Shem Creek the second Thursday of each month. The continuing series theme is "Inspiring Women in Business."
There is more to ECEW than meetings and community projects. BRAVA is a new mentorship program started in 2011. Members are paired in a mentor/mentee relationship based on their expertise and needs. A member might serve as a mentor for public relations with someone who wants to know more about promoting her business and be a mentee for finances so she can learn about bookkeeping.
ECEW provides a supportive environment for all types of businesswomen: those who've had their business for many years and are feeling stagnated; those in the middle of their career seeking assistance to reach the next level; those just starting or thinking about starting a business and looking for encouragement and help with "everything"; and those who are simply interested in sharing their experiences and providing support for others.
If you fall into any of these categories, visit the ECEW website calendar to find out about the date and location of the next happy hour or Coffee Connection.