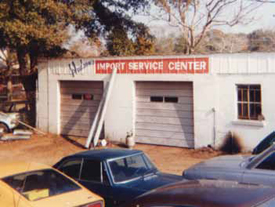 As spring engulfed the Lowcountry in 1978, Jimmy Carter was well into his second year as president of the United States, the Dallas Cowboys, led by Roger Staubach and Tony Dorsett, were the reigning Super Bowl champions, a gallon of regular gasoline cost in the neighborhood of 63 cents and Mount Pleasant, South Carolina, was still little more than a dot on the map along Highway 17, just across the Cooper River from historic Charleston.
Thirty-four years later, Mount Pleasant's burgeoning population, now approaching 70,000, is served by a thriving commercial community. Few businessmen have been taking care of the needs of the residents of what is now the fourth largest municipality in South Carolina longer than Cliff Hudson.
Hudson's Import Service opened its doors on April 1, 1978, just off Coleman Boulevard, behind the Blue Hawaii Restaurant, now Page's Okra Grill. At its third location, along busy Highway 17, the business has survived and thrived by taking its slogan seriously: "We're not just taking care of cars; we're taking care of customers."
Hudson specializes in work on imported automobiles, following in the footsteps of his father, a factory-trained Mercedes technician. During his first decade or so in business, other Mount Pleasant mechanics were content to concentrate on American-made cars, but today there is lots of competition in the import market. Hudson explained how he's been able to keep his business and his customers' automobiles up and running.
"To sum it up, we deliver the overall package: professional, honest, timely and a reasonable value," he pointed out.
Hudson, who moved to Mount Pleasant from Greenville in 1968, added that his repair services are not the most inexpensive in town, but, all things considered, they are the most cost-efficient.
"The mass merchandisers like to do the easy maintenance, but they aren't set up for problem solving and sophisticated repairs," he commented. "Some people are bouncing all over town trying to save money, but, in the long run, this is costing them money."
Stephanie Taylor, who serves as Hudson's business manager, has been with the company for 26 years. She pointed out that their eight employees continue to provide their customers with the same personal service that has characterized Hudson's since Mount Pleasant was known only as a small, quiet town between Charleston and the Atlantic Ocean.
"We keep comprehensive records and have a followup and reminder program, and we are very conscious of providing our customers with enough information to make good decisions about the maintenance and repair of their cars," she commented, adding that Hudson's offers a two-year, 24,000-mile warranty on most of its work. "And we do everything from bulb replacement to fuel injection repair."
Hudson echoed his business manager's sentiments concerning the relationship between the long-time Mount Pleasant business and the customers who have counted on Hudson's Import Service for nearly threeand- a-half decades.
"My job is customer education," he remarked. "Explaining the needed service or repair and why it is necessary."
Hudson's Import Service is located at 1072 Johnnie Dodds Blvd. For more information, call (843) 884-2573 or visit www.hudsonsimport.com.