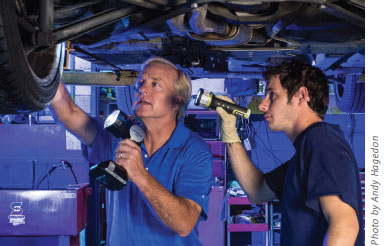 Dennis Walczuk of Exclusively Bimmers fell in love with the BMW brand before it was cool. "Back in 1976, my brother and I started a BMW repair business in Los Angeles," he said. "No one really knew what they were; they had not gotten popular yet. I worked with my brother's business until about 1981, and during that time I developed a life passion for BMW."
Walczuk moved to the Lowcountry in 1989, and, after spending 17 years working for various BMW dealers, he decided to open his own repair business.
"It was June 1 of 1998," he said. "I was married with children, and I told my family either we move someplace else or I start my own business. Well, they all loved Charleston, so that's what happened. I started out with a single bay in West Ashley. Then I moved to Mount Pleasant on Ben Sawyer Boulevard, where I had three bays. Now I have six."
"Do you feel the same about BMWs as a vehicle?" I asked. "Have they changed a lot since the 1970s?"
"The real change is the popularity," Walczuk replied. "They're still fast and fun to drive yet relatively safe. In the years I've been in business, there have been hundreds of accidents, but the outcomes have always been OK."
Walking into the Exclusively Bimmers current Mount Pleasant location, clients immediately feel at home. For one thing, Walczuk's two American bull terriers roam around the main lobby, giving a friendly sniff or nudge to the regulars.
"Hoss is our mascot," he said, affectionately scratching the dog's head. "He has been in the business since he was just eight weeks old. He's great with our customers and their children; he's such a gentle giant."
At Exclusively Bimmers, the name pretty much says it all: Walczuk works only on BMWs.
"Are there really that many people in this area who drive a BMW?" I asked.
"You'd be amazed," Walczuk confirmed. "But I get customers from other places – not just Mount Pleasant. A lot of people say that they wouldn't drive a BMW if it weren't for us. We do everything on the car, except sales or paint and body. But we'll repair anything."
He added that his old-fashioned, small-business friendliness, along with his attitude of fairness and honesty, keeps the customers of Exclusively Bimmers coming around.
"If a customer truly trusts you, it's humbling and complimentary," he said. "And our customers trust my team. We're not after your wallet; we want to help you with what you need."
One of Walczuk's longtime customers, Betsy Cormany of Carolina One Real Estate in Mount Pleasant, has been visiting Exclusively Bimmers for years.
"I'm loyal to (Dennis) because he has consistently gone out of his way to help me," she said. "I can call him after a day at the office when my car is acting up, just on a whim, and he'll tell me to bring my car right over. Then he gives me a reasonable price. Also, you're never standing in line feeling ignored while you're there; they get right to you."
"Our business grows by word-of-mouth," said Walczuk. "I would say that we stay in contact with our customers the old-fashioned way and vice versa. People can just pick up the phone and call."
Exclusively Bimmers is located at 900 Lansing Drive in Mount Pleasant. To find out more, call (843) 856-3343 or visit www.exclusivelybimmers.com.
By Denise K James