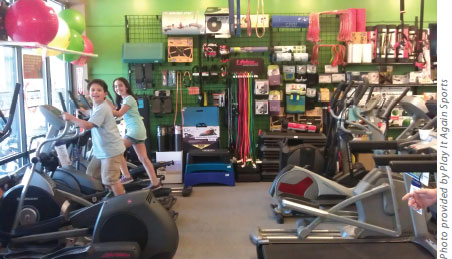 My really average golf game has a few daunting areas that desperately need improving. For years I've longed for that one club that could get me out of the trouble I inevitably find whenever I venture out for 18 holes. My only problem is that being a fresh-out-of-college kid, I didn't have the funds to afford a $150 savior golf club.
Then one day, while I was waiting for friends who were shopping at the neighboring Wal-Mart, I wondered into Play It Again Sports in Mount Pleasant. Upon entering the store, more a heavenly sanctuary than a retail establishment, I thought, I was awed by the panorama of cool sports gear and, in my mind, at least, transported back to my high school glory days of lacrosse, basketball and football.
As if driven by destiny, my eyes zeroed in on the glimmer of a … no THE, fairway wood that would surely liberate me from my recent golfing struggles. The price tag, a mere $19.99 for a club that certainly was worth well over $150, literally left me speechless. After recovering my ability to form spoken words, I consulted with a helpful employee and left the store excited and ready to challenge all the great golf courses of the world.
Unfortunately, I missed the cut at the PGA Championship in Kiawah this year, but, with my new fairway wood from Play It Again Sports, who knows what my future in golf will bring?
Three years ago this August, brothers-in-law and College of Charleston alumni Billy Richardson and Seth Cason decided it was time for a change from their jobs as teacher and contractor, respectively. That's when they opened the Play It Again Sports, Mount Pleasant. Since then, the store has seen nothing but success – achieving an increase in sales revenue every month.
"The Mount Pleasant community has taken well to us," Richardson commented.
I asked Richardson what he thought separated his Play It Again Sports store from dominant retail establishments such as Dick's Sporting Goods. His enthusiastic response was "our personalized customer service."
"We have a small but great selection (for virtually every sport). Nine times out of 10, we either know the people that come through the door or know their parents," Richardson continued.
He went on to describe how the store prides itself on being community based and knowing and understanding the people of Mount Pleasant. They both are deeply ingrained in the community – Richardson through coaching recreational lacrosse and Cason through church.
Initially, I all but ignored the idea of genuine personalized service; I was more entranced by the unique selection of football pads, free weights, wake boards and surfboards. Then I overheard a phone conversation between Richardson and a local high schooler in need of an Olympic style flat bench.
Richardson did not have the bench, nor did he know the youngster on the phone, but he told the kid everything he needed to know about the equipment and promised to check with all his distributors. By the end of the conversation, Richardson actually did know the caller. It was real. It was "personalized customer service," and the store hadn't even opened yet.
For Play It Again Sports Mount Pleasant, it's all about the community, with a close-knit feel even down to the business plan: "trade in and trade up," as Richardson described it.