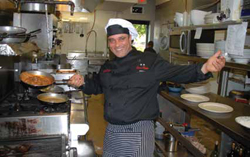 Some of us don't have the money to travel to Europe. Fortunately, Chef Davide Davino, owner and chef at Cuoco Pazzo, brings the mood of Italy to our own Mount Pleasant. His flair for creating an authentic Italian experience shines through not only in the food but also in the hospitality.
"I'm originally from Naples," said Davino, "and I've been in East Cooper now for about six years. Before moving to the area, I had another restaurant out on the West Coast with my best friend, who also grew up in Italy."
"The name of this restaurant, Cuoco Pazzo, means "crazy chef " in Italian," he added. "We've been located here for about three years. I'm the crazy chef; I'm crazy about food and about making everyone who comes into my restaurant happy."
Cuoco Pazzo's menu is an assortment of Southern Italian cuisine, recipes collected from when Davino worked at his family's restaurant in Italy.
"Every so often we bring something new into this restaurant that I learned in Naples," he explained.
One of the main focuses is fresh seafood, including mussels and clams. Southern Italian dishes are flavorful, with highlights of garlic, basil and other spices, according to Davino.
"Right now, I'm making a baby eggplant parmesan dish," said Davino, gently rocking the skillet back and forth as we spoke. "This is a recipe I got from my grandmother."
Chef Davino is happy to prepare dishes at the guest's request, as long as the proper ingredients are in the kitchen. The restaurant has been known to fulfill special orders.
"We like to joke that if you rub the olive oil bottle, a kitchen genie appears to grant your wish," said Angelica Cirinna, one of the restaurant's staff.
Cirinna's vocal skills help Davino make his guests feel like they're in Italy for the evening.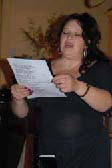 "I'm originally from Sicily myself," she said. "I wanted to make sure that the Italian atmosphere got taken care of right along with the food. So I sing in Italian. Sometimes people even request certain music. We try to offer a little piece of Italy to everyone who comes here."
According to Cirinna and Davino, the restaurant guests catch on to the European atmosphere, often making friends and chatting with one another.
"We make everyone feel like family," said Cirinna. "Everyone catches on to the hospitable feeling and enjoys the evening together."
A Mount Pleasant resident, Davino said his decision to open Cuoco Pazzo here was an easy one.
"I love Mount Pleasant; our clientele is a perfect mixture of visitors to the area and locals," he said.
To find out more about Cuoco Pazzo in Mount Pleasant, visit www.charlestonitalian.com or call (843) 971-9034.
Photography by Denise K. James
Photography by Bill Macchio