Overheard from the next table, "I haven't held one of these in my hand since the eighth grade." The 60-something-year-old gentleman was talking about a paintbrush as he sat in front of his blank canvas at Fear No Easel. Many in the room expressed similar sentiments: not having painted since high school; not feeling this creative since helping their child make a volcano for the middle school science fair.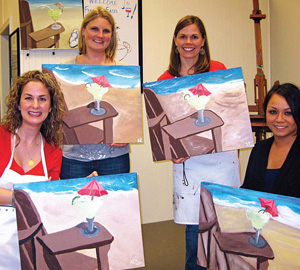 This is exactly what Les Orr had in mind when he opened his studio in The Shoppes at Seaside Farms in November 2011. Les was working an overwhelming job and looking for a way to channel his creative juices into a new career. As a youngster, he had taken painting classes and had shown some talent. But, like many, he gave up art somewhere along the way to becoming a responsible adult.
Thanks to Les, his wife, Gina, and others who have launched similar ventures in Mount Pleasant, former artists of all ages can create beautiful, crazy, compelling, decorative or just plain colorful art to display on their walls. Or, in many cases, on someone else's walls.
A woman wants to paint Morris Island Lighthouse for her boyfriend, who spent his childhood gazing at it from Folly Beach. A newlywed couple intends to re-create all the zoo animals for their still-incubating son's bedroom: giraffe, elephant, zebra … the list continues to grow.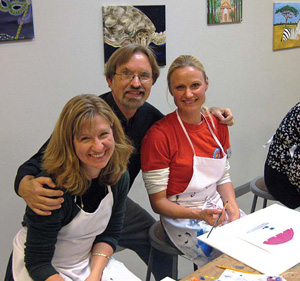 Another aspect of the world of art that makes Fear No Easel different is that Les doesn't mind if you don't paint what the instructor is teaching. If you have a photograph – or a memory – that you want to create with acrylic or watercolor paints, he's happy to accommodate. If you suggest an item that others might want to duplicate, he may just add it to the collection.
At a watercolor class, one student expressed interest in painting a red beach umbrella instead of the blue one local artist Steven Jordan was demonstrating. Minutes later, Les was supplying all sorts of pastel and vibrant colors. The end result was a cornucopia of colored umbrellas – and a group of happy painters posing for a photo before taking home their Steven Jordan replica, each matching their own décor.
Whether you're a professional artist or the last time you mixed colors was in kindergarten, sitting in front of an easel brushing your first stroke on the canvas is an exhilarating experience – and one you can enjoy over and over.
"This is social art, not serious art, and everybody has a good time," Les explained.
Participants can purchase wine or beer and relax as they visit with old friends, make new ones and create a masterpiece – or a bright blue peacock named Picasso.
For the schedule of paintings and more information about Fear No Easel, visit www.fearnoeasel.com. See more of this story at www.MountPleasantMagazine.com for a list of other local spots for channeling your inner artist.