Gullah Cuisine Closed its Doors in 2014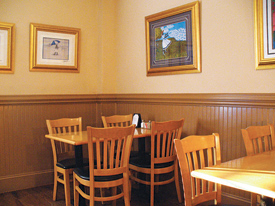 If you are not from here, You might think you've had real Southern cooking because you've tasted takeout chicken. You have not.
If you are from here, you might have your mother's fried pork chop recipe on a stained index card. And maybe you've known how to cook collards since you were old enough to reach the counter. Still, you don't always feel like pulling out the heavy cast iron skillet, and you'd have to scour the sink before you could even start cleaning greens.
For people who don't want to do the cooking and for those who don't know how, the best place to try true-to-the-original South Carolina Lowcountry treasured family recipes is Gullah Cuisine at 1717 U.S. Highway 17 North. That's because the dishes they serve are treasured family recipes, made even more special by their Gullah heritage.
Owner and chef Charlotte Jenkins is a member of the Gullah community, African-Americans with a unique culture that developed among their ancestors living on plantations and later in small farming and fishing villages along the South Carolina and Georgia coasts. Their crafts, music, language and food have been retained by their descendants and are now celebrated by a wider audience through the development of organizations, books and the Gullah/Geechee Cultural Heritage Corridor.
To be honest, many of us who grew up in the South have never enjoyed the traditional local dishes served in Gullah homes throughout the Lowcountry.
Jenkins combines her heritage and her education at the Johnson & Wales College of Culinary Arts to create the home-style Southern food that honors the local ingredients she uses.
"I hope to make local vegetables cooked the way locals cooked them here years ago," said Jenkins.
She does just that with her Gullah Rice – you might want a bowl for the table to share. It is a rich, delicious blending of flavors with chicken, shrimp, fresh vegetables, herbs and rice combining to warm you all the way through.
The okra gumbo has a similar effect, as do the lima beans … and the candied yams … and the collard greens.
Are you still thinking about fried chicken and pork chops? Jenkins serves perfectly crispy-outside, juicy-inside versions that you and your kids will love. Other entrées include oxtail, local seafood (fried or grilled), rib-eye steak and crab cakes.
At lunchtime, the buffet is set and the choices are abundant. There's also a Sunday Gullah Brunch, with shrimp and grits, country ham and other Southern favorites, plus omelet and waffle stations.
If you're yearning for dessert, try the pecan pie, sweet potato pie, peach cobbler or bread pudding. You can take a slice home for later.
In fact, you can take home anything by having CJ's Catering Service provide the cuisine for your next party, picnic or special event. There are three on-site rooms accommodating 25 to 250 guests, or they will deliver to your location. The website offers several suggested menus.
Don't let the small brick building fool you. The restaurant has a clean country-kitchen style in the dining rooms, ornamented by Jonathan Green paintings, and fancier décor available for events.
You haven't enjoyed real Lowcountry food until you've enjoyed Gullah Cuisine.