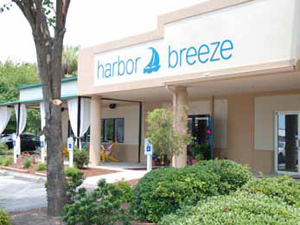 Steve Judy, owner of Mount Pleasant's new Harbor Breeze, created a menu that pairs well with the restaurant's relaxing atmosphere.
"We're in a laid-back location – right off the bridge and beside the harbor – and we needed the cuisine to go with it," said Judy. "We've concentrated on a fresh, locally-inspired menu."
Peruse the Harbor Breeze selections and you'll see all your favorites – tacos, burgers, salads prepared with local produce and fresh seafood.
"I collaborated with our lead chef, Matt Riley, and we decided simple but delicious fare would be best," said Judy.
A mainstay in the Charleston food and beverage community, Riley was previously at Hank's Seafood in downtown Charleston. Likewise, Harbor Breeze's general manager, Chuck Isenberg, came aboard after a stint at the 17 North Roadside Kitchen. With these masterminds behind the menu, it was destined to exude flair.
And the flair is local for Harbor Breeze, no matter what item you order. Even the decadent desserts are served with a "cold glass of Hickory Hill milk," according to the menu. I tried the milk; it's delicious and refreshing.
"Our milk is from Edgefield, S.C., and it's exclusive to our restaurant," commented Judy as I carefully erased my white mustache. "We don't buy frozen food at all. Our shrimp are caught in the Carolinas; our tomatoes are from Wadmalaw Island."
For lunch I had the tempura-fried grouper taco with tangy crumbles of blue cheese, cabbage and a honey balsamic reduction. It was satisfying, with an interesting symphony of flavors. Tacos are a la carte, so come hungry and order a few different kinds.
If you drop by for cocktails after work, the list is a pleasing blend of summery drinks. But if you're more in the mood for a beer, go ahead and order it; it'll be frosty.
"We have exceptionally cold beer. Our six taps pull from the freezer," said Judy. "We also keep our bottled beer on ice."
The beer selection includes a few crafts from breweries such as Holy City and Fat Tire, as well as domestic favorites.
As for the wine list, it's mostly Californian, except that Harbor Breeze also carries its own label in cabernet and chardonnay varieties. I'm not a wine drinker unless food is involved, so I asked Judy what he usually sips with dinner.
"I like all of the wines, really, since we personally selected them," he said. "My favorite pairing is probably the Acacia pinot noir with the pork chop. Our pork chop is probably my favorite entrée; it's tender on the bone and truly awesome. If you're more of a beef person, I suggest the Canyon Road cabernet paired with the skirt steak."
Other plans for Harbor Breeze include a Sunday Brunch – complete with mimosas and bloody marys – and occasional live entertainment, as well as private parties.
"We're in the old Point Grill location, and we've renovated it completely," said Judy. We're offering the additional room for private events."
Speaking of events, Harbor Breeze's catering is an excellent option for any celebration, from a reunion to a birthday blowout.
"Our off-site catering has really taken off. And we offer all kinds of food or beverages, not necessarily what is on the restaurant menu," said Judy. "We've worked with Piccolo Spoleto events, proms, weddings and other soirees."
Visit Harbor Breeze's website at www.harbor-breeze.com for more information.