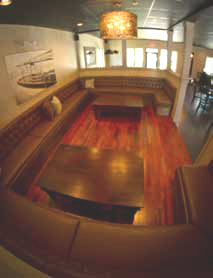 You must enjoy fun, food and people to succeed in the restaurant business, according to Robb Walker. He and his wife, Wendy, despite the 14-hour days, apparently have an affinity for all three. The proprietors of a thriving eatery on James Island, they recently opened their doors in Mount Pleasant, and they are already are talking about adding a third location.
J. Paul'z, at Folly Road and Maybank Highway since 2005, is now in Mount Pleasant as well, on Ben Sawyer Boulevard, just east of Chuck Dawley. The restaurant offers 16 items on its tapas menu, along with four varieties of macaroni and cheese, salads and entrees ranging from sea scallops to filet of beef to a Colorado lamb burger. The menu also features 20 sushi items.
"We take Japanese sushi and make it a little more American," Robb explained. "The sushi is on bamboo leaves with sauces and dips, as opposed to the traditional soy sauce. Our sushi chef, John Browder, is very artistic."
Robb, who described J. Paul'z as "casual upscale," said his restaurant's signature dish is pan roasted salmon, with potato gnocchi, arugula, mushrooms and truffle butter. The truffled macaroni and cheese, made from gemelli pasta, Spanish cheese, white truffle oil and panko flakes – Japanese bread crumbs – is also quite popular.
Choosing Mount Pleasant as the location for their second restaurant wasn't a difficult decision for the Walkers.
"We live here and our kids go to school here," Wendy explained. "We just love Mount Pleasant," adding that she expects the town's Coleman Boulevard revitalization project to attract a large amount of traffic to the area – on foot, on bicycles and in golf carts, as well as in automobiles.
Robb got started in the food service business at the age of 13, busing tables in Greenville. By the time he reached his 17th birthday, he was running his own hamburger stand on Tybee Island near Savannah, and at 20, he was managing a restaurant on St. Simons Island. He moved on to a similar position in Colorado but left the business for 15 years to manage big box retail stores.
He didn't think he would be returning to the world of food and fun.
The Walker family had migrated to the busy metropolis of Atlanta. They had been vacationing on the Carolina coast for years – Robb's dad lives on the Isle of Palms – and had decided that the Charleston area would be a much better place to raise a family. They contacted a business broker, and the first thing out of Robb's mouth was "I don't want a restaurant and bar."
Apparently, he changed his mind. While they were in Charleston looking for a business to buy in 2009, they went to a RiverDogs game. There was no baseball that night because of the weather, but the Walker family hit a home run at dinner – at J. Paul'z on James Island.
"What I liked most was the good vibe and the good food. It was something we could build on. We didn't want just one," Robb said.
And now, three years later, they have two.
Like the J. Paul'z on James Island, the Mount Pleasant restaurant features a separate lounge large enough for gatherings of up to 25 people. Furnished with comfortable chairs and couches, its floor once served a long-gone cotton mill in North Carolina. The lounge is ideal for bridal showers, birthday parties and book club meetings. Other interesting features of the restaurant include a chandelier made of hand-blown beer bottles and pendant lights above the bar made of wine bottles.
"We're a restaurant, but we also look at ourselves as a gathering place," Robb commented.
J. Paul'z is open seven days a week, from 4 p.m. until midnight during the week and until 2 a.m. on weekends. For more information, visit www.jPaulz.com or call (843) 884-2425.